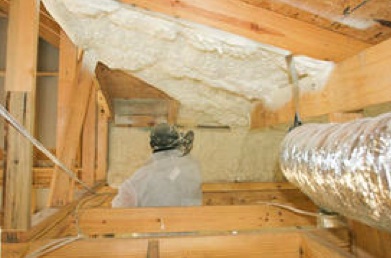 Spray polyurethane foam is magic to some advocates of energy efficient housing — but black magic to others, who say its toxic potential outweighs its considerable merits as an airtight insulator.
Debate pegged to those views, and variations of those views, rages on in many builder forums, including GBA. As the Environmental Protection Agency noted in a press release last month, though, there are certainties in the debate: the polyisocyanates in SPF, and similar compounds designed for other purposes such as sealing concrete or finishing wood floors, have long been known to cause asthma, lung damage, and even fatal reactions in people who have been overexposed or sensitized to the chemicals.
"There has been an increase in recent years in promoting the use of foams and sealants by do-it-yourself energy-conscious homeowners, and many people may now be unknowingly exposed to risks from these chemicals," Steve Owens, assistant administrator for EPA's Office of Chemical Safety and Pollution Prevention, recently told Environmental Building News.
Two targets: MDI and TDI
Of particular concern are SPFs intended for use by consumers, who are unlikely wear protective gear when using the products. The agency says it is considering a number of approaches designed to address the issue, including invoking the Toxic Substances Control Act (TSCA) to require that manufacturers conduct additional exposure monitoring studies for consumer products in this category, and improve their labeling and product safety information. The agency said it also might consider regulating consumer products containing one or the other of two diisocyanates in particular – methylene diphenyl diisocyanate (MDI) and toluene diisocyanate (TDI).
The EPA is targeting TDI a bit more forcefully than MDI. A summary of the EPA action in a story published by Chemical & Engineering News notes that the agency is likely to require manufacturers to notify the EPA before using TDI in consumer goods, and might work out a plan with manufacturers to phase out consumer products containing TDI altogether, or at least require companies to monitor consumer exposure to TDI.
Creating credible standards
EBN points out that the American Society for Testing and Materials (ASTM) is developing a new standard for establishing re-occupancy times in structures where SPF has been applied, taking into account product-curing rates, mixing ratios, diisocyanate and chemical by-product emissions, and other variables. Re-occupancy times cited by manufacturers, the EPA notes, range from 8 to 24 for single-component SPF and 23 to 72 hours for two-component SPF – key safety guidelines that will need independent verification.
While it is too early to tell how effective the EPA's call to action will be, one environmental business-to-business group, Environmentalexpert.com, remarked that the action plan is the first to issue a data call-in for uncured MDI under the Toxic Substances Control Act, but also that the EPA required similar submissions under another TSCA provision 20 years ago "and it is not clear that that step resulted in further EPA action at that time." Also, Environmentalexpert.com adds, this EPA action doesn't indicate that MDI and TDI might be added to the TSCA's "chemicals of concern" list, although that step had been identified in previous EPA action plans.
Weekly Newsletter
Get building science and energy efficiency advice, plus special offers, in your inbox.