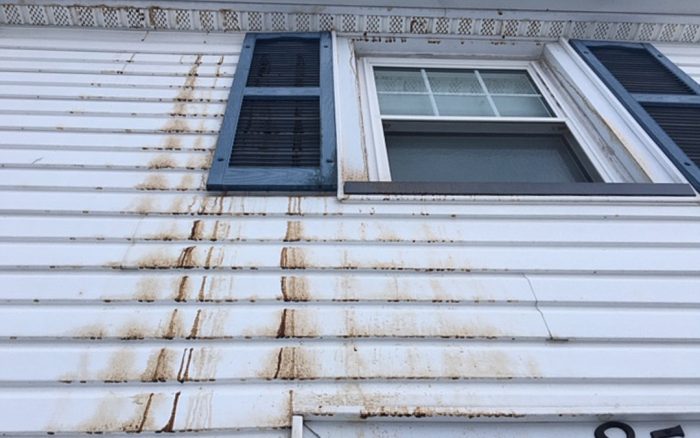 James Fugate's intent was to insulate the roof of his Rochester, New York, home and make the attic part of the conditioned space. What he got instead was a mysterious brown stain that shows up on the outside of the house at certain times of the year.
The project started innocently enough. Where the roof rafters were accessible, the insulation contractor sprayed foam on the underside of the sheathing. Then he hit a snag. As Fugate explains in this recent Q&A post, on the second floor of the house is a 5-foot-high knee wall, above which is a sloped ceiling that rises to the flat ceiling below the attic. Rafters and sheathing were inaccessible in this area.
So, the contractor came up with an unusual plan. He decided to spray the foam from the outside. In order to do this, he removed shingles and sheathing above the sloped ceiling, applied the foam, and reassembled the roof.
"Now," Fugate says, "every winter I get this brown stuff dripping down the siding of my house. It only happens when we have a thaw after a deep freeze. The dripping never occurs during warm weather. It does not happen everywhere." There are no signs of water intrusion inside.
Getting the contractor back for remedial work is out of the question. Fugate ended up replacing the entire roof after the contractor did such a lousy job of patching the area he had removed.
What explains this mess? And what are Fugate's best options for fixing it? Those are the issues in this Q&A Spotlight.
Is moisture condensing above the foam?
Zephyr7 believes because the foam was installed from the roof, there is now an air gap above the newly installed foam in that sloped part of the ceiling,…
Weekly Newsletter
Get building science and energy efficiency advice, plus special offers, in your inbox.
This article is only available to GBA Prime Members
Sign up for a free trial and get instant access to this article as well as GBA's complete library of premium articles and construction details.
Start Free Trial
Already a member? Log in