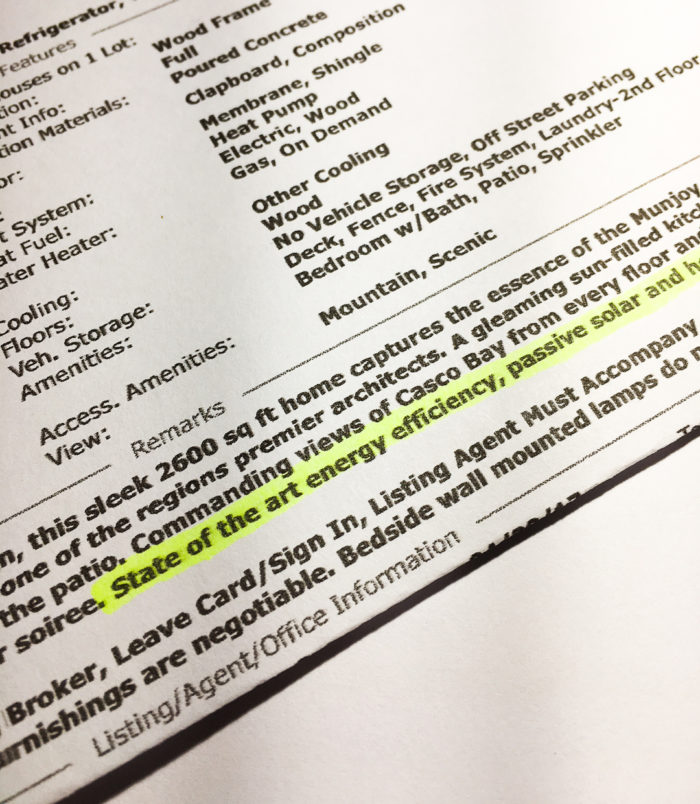 Editor's note: This article originally appeared in Green & Healthy Homes Maine and is reprinted here with permission.
Few people who embark on the adventure of building a new home have done so before. If you are venturing down this road, there are key things to know before the first shovels hit the ground. And a significant portion of this knowledge lies in the financing process.
To understand how to secure financing for a new home, it is helpful to understand the when, the who, and the what of the process. Knowing when certain steps should be taken, who should be consulted along the way, and what documents you'll need will make for a much smoother experience overall. This is particularly important for a home buyer commencing the noble and worthy quest of building a green home.
Before getting into the nuts and bolts, it's worth stepping back to take in the big picture of building green.
Invisible truths
It is true to say high-performance homes cost a small margin more to build. It is false to say they cost more. This can be a difficult point to convey because, historically, the golden number — the ultimate bottom line — has always been the mortgage.
In recent years, the green building market has seen two significant developments that have changed its financial landscape. One is the upward trend in fossil fuel costs and, correspondingly, utility and electricity expenses. Oil prices have more than tripled in the past 20 years. And the oil we use to heat the majority of homes in Maine will not likely be getting any cheaper. Likewise, in just 14 years, the average price for residential electricity has increased by 65% — and it continues to trend upward.
The second transformative event has been the marked innovation in energy efficiency and solar technology. Namely, air-source heat pumps (the most common heating and cooling system for high-performance homes) can now operate at outdoor temperatures well below zero and, according to the U.S. Department of Energy, "can deliver one and-a-half to three times more heat energy to a home than the electrical energy it consumes."
Solar electric (photovoltaic) panels have vastly improved in their capacity for power production per panel, while the cost to purchase and install them has decreased. These improvements have made building green not only affordable but potentially less expensive than a comparable newly built home that meets only code-minimum energy standards.
For a family of four, a net-zero home — a home that generates as much electricity as it uses — would offer an estimated savings of $400 per month, or $4,800 per year (based on the Department of Energy's calculations for average energy costs for New England). Considering that the average time homeowners stay in their homes is 10-13 years, the cash savings over that time period is between $48,000 and $62,000. If factored over the life of a 30-year mortgage, the accumulated savings would equal $144,000 to $186,000 (not adjusted for inflation or compounding interest).
Given these projected savings, and assuming 10-year ownership, a net-zero home buyer would have an additional $50,000 for the project at the outset. In other words, you get an extra $50,000 to spend up front, and yet you'll still be spending the same as you would monthly if you had built a comparably sized home to code-minimum standards. This also assumes that there will be no change in fuel and electricity prices over these 10 years — an unlikely scenario.
This sum also does not account for the added lifestyle value of building green: filtered fresh air, consistent interior temperatures and the peace and quiet of a well-insulated home, to name a few. So, it's likely that the savings and ultimate benefit will be far greater than the initial projected $50,000 of this example — before ever spending a dime more per month than you would have if you'd just built a conventional home.
Another intangible is the added value of the home at resale. Several research studies have shown that green homes capture an average of 8% — and up to a whopping 30% — of added value over a conventionally built home of comparable size and location. In the current market, then, they are selling at a premium.
Given that code-minimum home construction continues to outpace construction of high-performance homes, it stands to reason that high-performance homes will likely gain further value in years to come.
These considerations illuminate a solid financial argument for building a green home. Now on to the business of appraising and financing one.
Picking the team
To recognize the best value in a green home, it is important to build an effective team. In addition to the usual suspects — builder, architect, lender, realtor — you may want to consider a few others, such as an energy rater, an appraisal consultant and the homeowner as self-advocate. The team counts, and building a solid squad of knowledgeable players will serve the homeowner well when it comes to dollars and cents.
Let's start with Realtors. While years ago, buyers were driven primarily by finishes, styles, features, and of course, the ever-important location, there are now new markers of interest. Homes with solar arrays, efficient boilers (or no boiler at all), better performing windows and so on, are being noticed for their sustainable qualities.
And it's not just in the listing title but, most importantly, in the newly-added check boxes for green features on the Multiple Listing Service (MLS). These performance-specific categories have been added to the MLS so that listing agents can ensure the "green" features of the home are clearly spelled out. The standardization of green features bodes well for new high-performance homes seeking area comps. Existing homes that have been upgraded to include sustainable features stand to gain as well.
While these added tools are important, it's also important for homeowners to know their role in aiding real estate agents to list and advertise a high-performance home effectively. As Julia Bassett Schwerin, a designated Green Realtor with Coldwell Banker, notes, "The best thing a realtor can do is to understand how the homeowner saved money thanks to those features." It's incumbent on the homeowner to provide that information to their Realtor, through either historical utility bills or spec sheets on their home's features.
Schwerin also stresses that it's important for both homeowners and realtors to give appraisers as much information as possible. "Appraisers are way too busy right now, so you gotta help them, gotta make it easy for them. That's the main thing I stress: give them as much information as you can to help them recognize the value of your property."
Lenders
Typically, smaller banks and mortgage brokers can structure creative loan solutions for their applicants, unlike larger entities that frequently sell mortgages to secondary markets. While they may not have the same access to some loan programs — such as the Federal Housing Authority's Energy Efficient Mortgage, or EEM program — smaller lenders often make up for it with their flexibility, open-mindedness and potential for a more personal relationship.
For this reason, many professionals within the high-performance realm (builders, architects, appraisers, etc.) recommend sticking with your local bank or broker.
Promisingly, lenders acknowledge that high-performance homes are a great investment. Asked if he would be willing to structure a loan for a high-performance project creatively, Mark Jones, director of retail lending at Saco & Biddeford Savings in Maine, says, "We love them, actually. We want to make it work for the community and the environment. Loan-to-value [LTV] is the last thing that predicates tardy payments. If debt ratios and credit scores look good, but the LTV skews a little high…we are still willing to grant the higher LTV because the value is there."
In other words, because operational and utility costs of the home will be low, the bank is willing to lend a higher amount to an applicant who is seeking to finance a green home.
Architect/Designer
Incorporating green design thinking and specifications from the start will make life easier for everyone involved, particularly the builder, when it comes time to do the numbers. In Maine, quite a few architectural firms and independent architectural designers are well-versed in high-performance building.
If meeting with prospective designers for the first time, ask them about their experience in high-performance homes and whether they have any certifications or accreditations that speak to their knowledge of sustainable design (examples include Certified Passive House Consultant, LEED Accredited Professional, Energy Star partner, etc.). Ideally, they can speak to performance strategies around insulation, air-sealing techniques, energy-efficient mechanical systems, and solar orientation.
Builder
Any builder who has previously constructed a Passive House, Energy Star-certified, or LEED-certified home is likely to have the knowledge required for building high-performance.
The successful performance of a green home is predicated on a holistic balance of wall assemblies and mechanical systems, so it is critical to find a builder who can put all the pieces in place. In addition to (or if necessary, in lieu of) the certification qualifiers noted above, look for a builder who shows a high level of attention to detail and who is familiar with air-source heat pump technology, solar installations, and the verbiage and considerations around blower-door tests — such as hitting an "ACH 50" of 1.5 or better. Visit this site for more information.
Energy raters
Operating as third-party entities, energy raters verify the anticipated performance and corresponding operational costs of a proposed home. In doing so, they can also identify opportunities to improve performance. They evaluate the specifications, design characteristics, solar orientation, number of occupants, and other contributing performance features of the home. They also determine how the home will perform, how much energy it will require and, ultimately, how much it will cost to operate.
Energy raters use energy modeling software to evaluate these conditions and will arrive at a score for the home. Most often, this score will be the widely recognized Home Energy Rating System, or HERS Index, which is a number between 0 and 100. While it's possible to hit below zero (for a net-positive home) or above 100 (for a leaky old home), a conventionally built standard new home receives a score of 100. Most high-performance homes land somewhere between 0 and 50 (i.e. shown by modeling to require 50% to 100% less energy than a standard new home).
Whether you're building new or listing an existing high-performance home, the HERS Index is a metric that will convey a specific added value in a language spoken across many disciplines in the industry.
Appraisal consultant
For an accurate estimate of what an appraiser is likely to assess for the value of your project, it is wise to hire an appraisal consultant early on. This consultant should be either an active appraiser or experienced in the appraisal process and be able to help determine if your project is likely to achieve a valuation that will qualify it for the required financing.
Bob Strong, CEO of Property Valuation Services, says it is common for new construction projects to
appraise for less than the cost to build the house, particularly in certain regions where existing housing stock is comparatively inexpensive. He states, however, that "new construction is taking off right now because inventory is so low."
A consultant can characterize the green and design features of the home so that you realize optimal appraisal value. This will help ensure that construction pricing is in keeping with projected value of the project so that you do not arrive at the end of the process only to find that you can't finance the home you've spent months planning.
Homeowner as self-advocate
You, the homeowner, are in fact the most important player on the team. If you've done your due diligence and arranged a stellar team of qualified professionals, then you've done most of the work already. Each member of that team should be working as your advocate and assisting you with providing the information you'll need to submit to the lender for your appraisal.
At the end of the day, though, it is up to you to pull together all the necessary documents and records to submit to your lender of choice.
As Strong puts it, "Spend a little more time up front. Have all of the appropriate eyes on the project to ensure that once it goes to the lender, you can feel confident that your appraisal won't fall short."
Playing the game
You have your team together, and now it's time to go to bat. So it's important to know the rules of the game. This boils down to one document: the appraisal. In evaluating a green home, the appraisal process aims to acknowledge the long-term value of your home. When the value is appropriately recognized by the appraiser, lenders will grant a higher sum to finance a green home's construction, acknowledging that the long-term safety net of predictable (or no) monthly costs is far superior to that of the average home.
Assigning value, though, is complicated by the fact that not all high-performance homes are equal and that few of them exist for setting the standards in this data-driven numbers game.
There are currently three methods for appraising a home. The first is the sales comparison or market approach, the method most used and best understood by home buyers and professionals alike. In this method, area homes (or "comps") similar to the home under evaluation are used as the basis for determining the subject home's value.
Similarly sized homes with similar features provide a set of data points that come with their associated market value. The data points for high-performance features are woefully few.
The second method is the cost approach, which assumes the value of an improvement is the same as the cost to construct or replace the improvement. The cost approach is less common than the sales comparison approach but is useful for appraisers when they have few or no comps to reference.
In the high-performance realm, the cost approach is applicable because the amount of inventory required to make a viable "comparable" argument may not be available. How an appraiser might understand what to value in a project, then, relies heavily on the documentation provided to the lender by the homeowner and his or her advocates.
The third method is the income capitalization approach, which generally applies to rental properties only, as it acknowledges the anticipated income stream against which a property owner can borrow. While it is not likely to be used as the singular approach in a high-performance valuation, this method can be employed as an adjustment to the sales comparison approach if it can be clearly demonstrated that energy savings translate to an income stream.
Tools
According to Jeff Gephart, president of Vermontwise Energy Services, there are three documents that should be completed prior to applying for a green appraisal: the Appraisal Institute (AI) Addendum (your architect and builder should be able to assist with this); a home energy rating provided by a third-party energy rater; and a calculation sheet that examines net present value from the utility savings achieved when compared to a similar home built to conventional code standards (the architect or energy rater should be able to help you prepare this).
Each of these documents is described in further detail below.
When you submit these documents, request a certified green appraiser be designated for your appraisal. Your proactive approach will not only go a long way toward getting the value of the home appropriately acknowledged, it could also help expedite the process itself.
Appraisal Institute Addendum: The Appraisal Institute (or AI), a membership organization comprised of appraisal professionals, has begun developing the tools for standardizing the green appraisal process, including the Residential Green and Energy Efficient Addendum, which can accompany your submission to your bank.
This addendum helps articulate the specific characteristics of the home that contribute to its energy efficiency. It takes a comprehensive snapshot of the home — from the level of insulation and projected or tested airtightness of the structure to the exact specifications for the mechanical systems — to make the most of every opportunity for recognizing added value.
Home Energy Rating: In addition to the addendum, a home energy rating gives the lender a nationally recognized metric for classifying a home's efficiency. This third-party submitted value takes some of the subjectivity out of the valuation and helps substantiate claims made in the Addendum.
Net Present Value and Savings Calculations: These projections assign a dollar value to the savings the home can offer when compared to a home built to your state's energy code, indicating the long-term financial stability of the home. Unlike their oil-guzzling counterparts, high-performance homes won't subject their homeowners to sudden substantial bills or the whims of the fuel markets, which for some could spell a quandary between paying for heat or paying the mortgage.
What matters most
Designing, building and financing a high-performance home may not be path of least resistance, but it offers tremendous rewards. You're buying into a better future, and at the end of the day, you'll have a phenomenal home that is durable, healthy, comfortable, and offers financial security that will keep your monthly outlay consistent for many years to come.
A new tool, recently released by the Appraisal Institute, serves as the "bow on top" of the three-piece
submission: two template letters — one to the lender and the second to the appraiser — that act as official cover letters for the homeowner's application. Access them, and additional resources here.
Residential Green Valuation Tools by Sandra K Adomatis, can be ordered through the Appraisal Institute's website and walks appraisers through the step-by-step considerations in valuing a green home.
Finally, find a directory of Qualified Green Appraisers through the Green Buildings Resources page on the Appraisal Institute's web page. You cannot request that your lender assign your application to a
specific appraiser, but this roster can be used to ensure that an appraiser is drawn from a qualified pool.
Parlin Meyer is director of BrightBuilt Home, a Portland, Maine, firm that designs and builds high-performance houses.
Weekly Newsletter
Get building science and energy efficiency advice, plus special offers, in your inbox.