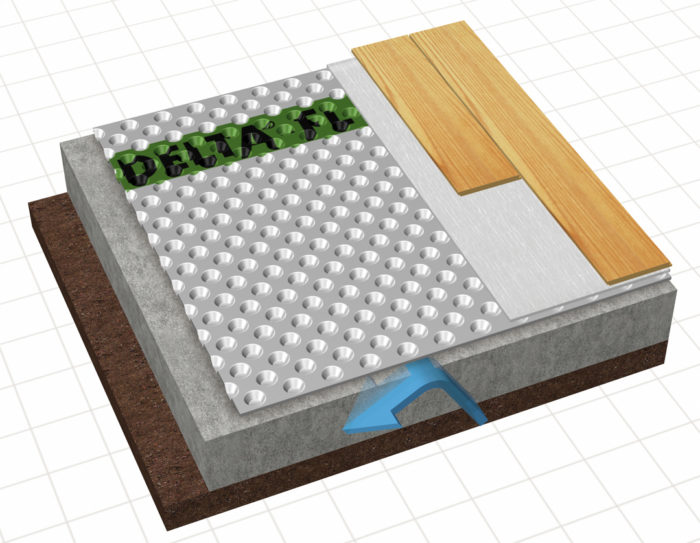 With a basement remodel underway, Jeff Dieterle weighs his options for a trouble-free floor. "We want to do the kitchen and bathroom in tile or stone and the rest of the area in wall-to-wall carpet," he writes in a Q&A post at Green Building Advisor.
So far, he's found two products that would seem to work: Ditra-Heat under the tile or stone sections of flooring, and a product called Delta FL in tandem with tongue-and-groove plywood under carpeted sections.
Dieterle has never had a bulk water problem in the basement in the 17 years he's lived in the house. Even so, he's not sure that the Delta membrane/plywood combination is a good idea.
"Not fond of the T&G plywood in the basement as everything else will be mold-proof," he writes. "Are there other options beside inorganic individual tiles? Or is the Delta FL system reliable?"
That question is the start of this Q&A Spotlight.
Two potential water problems, not just one
There are two types of potential water problems in a basement, GBA Senior Editor Martin Holladay says. One is the possibility of water leaking in from the outside; the second is that a cool concrete slab can become a condensing surface for moisture, particularly in the summer. The first is apparently not a problem here.
"In general," Holladay adds, "you don't ever want to install carpeting on a concrete slab unless you are sure that there is a layer of horizontal rigid foam under the slab. (The foam insulation keeps the slab near the interior air temperature, greatly reducing the chance of condensation.) Without the foam insulation layer, you can get moisture build-up and mold under the carpet."
Most older houses don't have a layer of foam beneath the…
Weekly Newsletter
Get building science and energy efficiency advice, plus special offers, in your inbox.
This article is only available to GBA Prime Members
Sign up for a free trial and get instant access to this article as well as GBA's complete library of premium articles and construction details.
Start Free Trial
Already a member? Log in