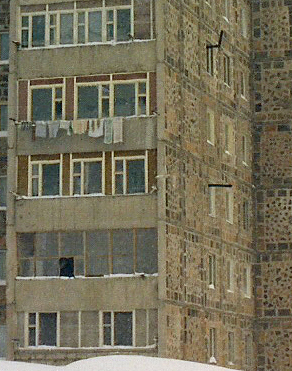 In the wake of the recent military crisis in Crimea, energy experts have been discussing whether Vladimir Putin will be tempted to gain political advantage by shutting the valves on the Russian natural gas pipelines that supply Ukraine and Western Europe. Regardless of whether this scenario is likely, such speculation raises the question: How would urban residents in a cold climate cope if the supply of natural gas were suddenly turned off?
Hollywood screenwriters have imagined various dystopic versions of a future economic collapse; these fictional accounts usually involve desperate citizens fighting over firewood and scraps of food. Most of these stories feature roving bands of armed, violent thugs. Unlike these screenwriters, however, I don't believe that an energy crisis or economic collapse would necessarily lead to social anarchy.
Week-long electricity blackouts cause massive problems
Of course, many Americans have some familiarity with the consequences of short-term energy crises. We know what usually happens during electricity outages (for example, after an ice storm or a hurricane), and many of us remember the consequences of tight oil supplies during the 1970s.
During a blackout, many homes have no running water, no refrigeration, no air conditioning, and no heat; it can become quite unpleasant to live in such a home after just a few days without electricity. To limit suffering, authorities usually respond to these disasters by establishing emergency shelters, setting up gasoline-powered generators in public buildings, and distributing fresh drinking water.
In the U.S., these energy crises are usually solved in a matter of days or weeks. But what would happen to urban society if energy supplies were cut off for months or years?
The Armenian energy crisis of 1992
I lived and worked in Armenia for 18 months, off and on, between April 1990 and March 1992. I started…
Weekly Newsletter
Get building science and energy efficiency advice, plus special offers, in your inbox.
This article is only available to GBA Prime Members
Sign up for a free trial and get instant access to this article as well as GBA's complete library of premium articles and construction details.
Start Free Trial
Already a member? Log in