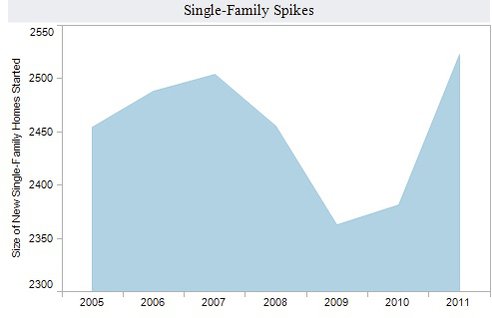 As a counterpoint the the optimism I expressed in my last post about multifamily green buildings, recent discussions with single-family builders leave me feeling less than enthusiastic about the prospects for green single-family housing.
I recently had lunch with the local head of a large national builder who expects to build about 500 homes per year in several Georgia suburbs. I attempted (in vain, it turns out) to convince him that there was value in building better quality homes – that they could design for high performance from the beginning rather than use standard stock plans. I ran on about tighter envelopes, centrally located HVAC systems zoned for multiple floors and with compact duct systems, pointing out that increases in some areas could offset higher costs in others.
He said his company did not want to spend a nickel more than the approximately $48 per square foot they were building for. In addition, he said something memorable: that his customers wouldn't buy a house with one HVAC system when his competitors' homes had two. They would feel like they were being shortchanged, regardless of how the house performed.
This point resonated with me, and made me realize that we need to change consumer perceptions to make high-performance homes desirable.
Send in the reinforcements
The following day I met with another builder, a client of mine who is building about 10 homes in a small in-town subdivision. I mentioned my discussion with the production builder about the number of HVAC systems he installs in each home, and his response reinforced the other builder's position.
He said that if there isn't a separate HVAC system on each floor of a house, buyers think they are not getting their money's worth. And they think that bigger systems are better than smaller ones. He said he can usually get away with a zoned system for the third floor attic area, but if he were to install a single system to condition a two- or three-story house, he would have trouble selling it even if the buyers were told it was more efficient and would work perfectly well.
More and bigger is what they want
According to several reports, after a brief period where home sizes remained stable or reduced, new single-family home sizes are back on the rise.
I had hoped that the industry and consumers had learned some sort of lesson from the last real estate crash, but it appears that they haven't. People still want big homes, and with mortgage rates at historic lows and energy prices lower due to expanded natural gas resources, there may be little to stop this trend.
And with those big houses, people want more and bigger equipment: refrigerators, ranges, showers, and HVAC systems. I must say, it was a pretty dispiriting week of builder conversations for me, tempering some of my optimism about multifamily housing. Time for a drink.
Weekly Newsletter
Get building science and energy efficiency advice, plus special offers, in your inbox.