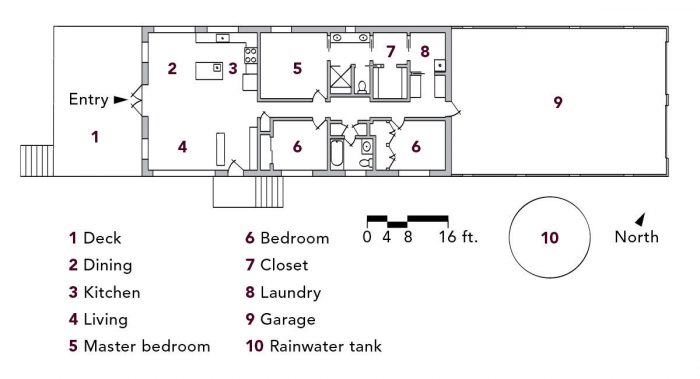 So now that you've been indoctrinated into the practice of launching a project by setting environmental-impact goals, including foreswearing fossil fuels, what happens next? For many, maybe even most of us, the natural next step is to start envisioning the space: How is your house, renovation, addition, or ADU going to be laid out? How will you move from room to room? What uses do you envision for the spaces in your abode?
This is a critical part of designing a new home or remodel and has as much to do with the climate impact of the project as many other detail will. Homes that are not thoughtfully planned often end up larger than necessary, with wasted or unused spaces, and are likely to be remodeled sooner, and remodeling is a wasteful process. This critical part of the process is what architects call "programming."
Ann: Efficiency starts with the program 
No, it's not programming like JavaScript; it's the process of enumerating all the functions that the building is supposed to accommodate, and what needs are associated with those various functions. Programming typically includes adjacencies—the master bedroom should be next to or have an en-suite bathroom; the kitchen should be located next to the dining room, etc.—and floor area requirements. Does the dining room need to fit Virginia's great-grandmother's ginormous ebony sideboard from The Old Country? Does the family room need to fit both Liam's grand piano and Wolfgang's pool table? What about Dinah's old vinyl collection?
About ten years ago I learned something startling from my clients. They had assumed that all the square footage numbers in their architect's program were additive, so the program dictated how big a house they should build. RED ALERT! First of all, floor area…
Weekly Newsletter
Get building science and energy efficiency advice, plus special offers, in your inbox.
This article is only available to GBA Prime Members
Sign up for a free trial and get instant access to this article as well as GBA's complete library of premium articles and construction details.
Start Free Trial
Already a member? Log in