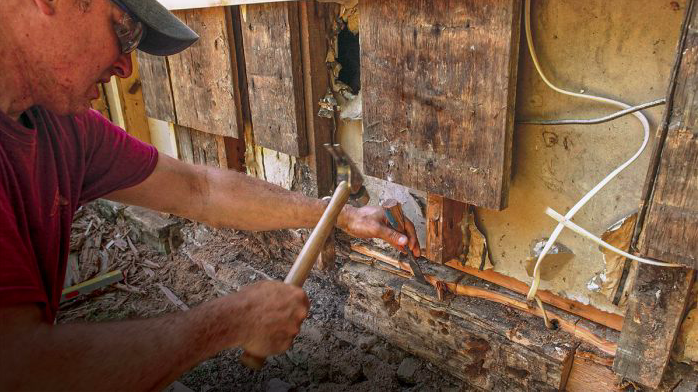 If wood didn't rot, I'd have to find another way to make a living. This week alone, I looked at two jobs for which I have rot to thank. One is on an 1805 timber-frame farmhouse whose mudsill is rotting. The other, also a timber frame, is less than 20 years old. On the newer house, the oriented strand board (OSB) on one of the structural insulated panels (SIPs) is rotting.
Besides being made of wood and lacking a water-resistive barrier (WRB) such as tarpaper or Tyvek, the main commonality between these two jobs is that the rot is on the north side of the building. In fact, I find rot more often on the north and east sides of buildings than anywhere else. That is a clue to understanding how rot works. Because it doesn't get as much warmth from the sun, wood on the north and east sides of houses stays wet longer, providing decay organisms more time to work.
Of course, not all wood is prone to rot. Cedar and locust are two well-known examples of rot-resistant wood. Two lesser-known rot-resistant species I see regularly in old buildings are chestnut and white oak. Most wood has some decay resistance, particularly in the heartwood. Sapwood, which is rich in sugars created through photosynthesis, is easy prey for rot organisms. Living trees produce chemicals that discourage rot in the sapwood, and the outer layer of bark protects it from the weather but once the tree is dead, it no longer produces these chemicals and its sapwood is the first to go—even on rot-resistant species. That's why you want all-heart grades of cedar.
The heartwood of most species will be comparatively more rot-resistant. As the annual layers grow around a tree, the inner ones begin to die.…
Weekly Newsletter
Get building science and energy efficiency advice, plus special offers, in your inbox.
This article is only available to GBA Prime Members
Sign up for a free trial and get instant access to this article as well as GBA's complete library of premium articles and construction details.
Start Free Trial
Already a member? Log in