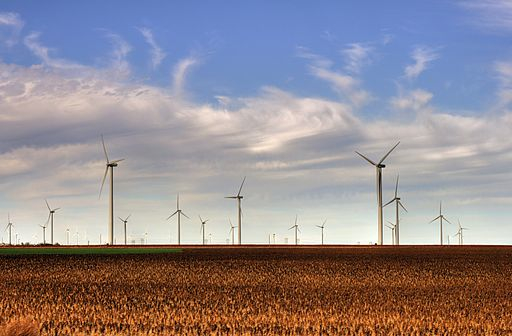 A record amount of new wind energy capacity was under construction at the end of 2013, according to the American Wind Energy Association (AWEA). The two main reasons for the wind boom are technological advancements that have lowered costs and a federal tax credit.
In an end-of-the-year summary for 2013, the industry group said in Washington on Janury 30 that wind projects with a combined capacity of more than 12,000 megawatts were under construction by the end of the year. Most of that construction, accounting for 10,900 MW, was started in the fourth quarter of the year.
One key was the Production Tax Credit, which was extended by Congress in 2013 after being allowed to lapse briefly at the start of the year. The credit, which has been in effect for more than 20 years, is worth 2.3 cents per kilowatt-hour for the first 10 years of the project.
The tax credit expired again at the end of 2013, but the industry expects it will be renewed again in 2014, according to an article from Gannett's Washington Bureau.
Tax credit and new capacity go hand in hand
Without the tax credit, the industry slows to a crawl. According to the AWEA, when the credit is allowed to expire, wind installations drop off from 75% to 95%, as they did at the start of 2013.
Orders placed in the last part of 2013 will keep the industry busy for a while. But the AWEA says that if the tax credit isn't back on the books by the start of the construction season in the spring, there could be trouble.
While the capacity of projects under construction hit an all-time high at the end of 2013, the total capacity that was actually installed in 2013 was quite low — 1,084 MW compared with the record-setting 13,131 MW installed during 2012. The AWEA said that the late extension of the production tax credit and an investment tax credit was to blame.
"In the absence of long-term policies, the wind industry should not be left out in the cold while Congress decides the way forward on energy," said AWEA CEO Tom Kiernan in a prepared statement available on the organization's website. "The [tax credit] is a highly successful policy and Congress should act quickly to extend it to maintain a stable business environment, so that wind energy can continue to provide more affordable, clean, homegrown energy."
In all, the AWEA said in its report that there are now 61,1087 MW of installed wind capacity in the United States — enough to power 15.3 million homes.
Weekly Newsletter
Get building science and energy efficiency advice, plus special offers, in your inbox.