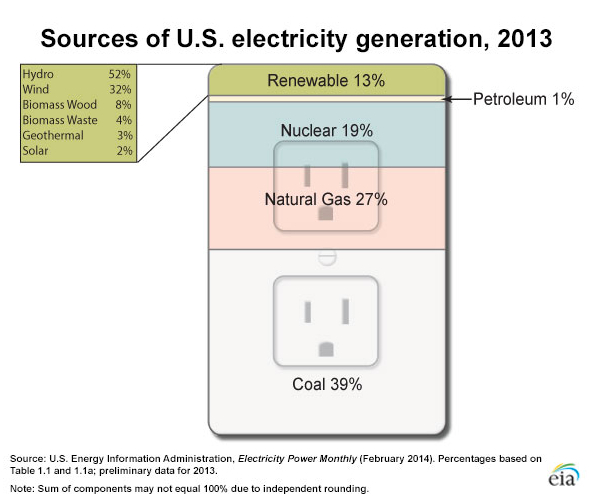 Energy produced by wind turbines in the U.S. totaled 167 million megawatt (MW) hours in 2013 and reduced carbon dioxide emissions by nearly 127 million tons, the equivalent of taking 20 million cars off the road, according to a report from the American Wind Energy Association.
The report paints a rosy picture of wind's growing impact: a 43% decline in the purchase price of wind power in the last five years and an average growth rate of nearly 20% per year between 2009 and 2013.
Renewable sources of energy accounted for 13% of total U.S. production in 2013, according to the U.S. Energy Information Administration. Wind energy amounted to about one-third of that, roughly 4% of the U.S. total. (Solar energy production is only 1/16 as much as wind energy production).
In all, the Wind Energy Association said, the total installed wind capacity in the U.S. is 61,110 MW, equaling the output of more than 50 average-sized coal plants or 14 nuclear plants.
In the last five years, nearly one-third of all newly installed electrical generating capacity has been wind, the report said. In 2012, wind accounted for 42% of all newly installed generating capacity.
Other findings in the report:
A typical 2 MW turbine avoids between 4,000 and 4,500 tons of carbon emissions per year (the same as more than 700 cars).
Wind energy saved 36.5 billion gallons of water last year, the amount that would have been used at conventional power plants.
Eleven states reduced carbon emissions by 10% or more with wind power, and more than 25% of the electricity in two states comes from wind.
Weekly Newsletter
Get building science and energy efficiency advice, plus special offers, in your inbox.