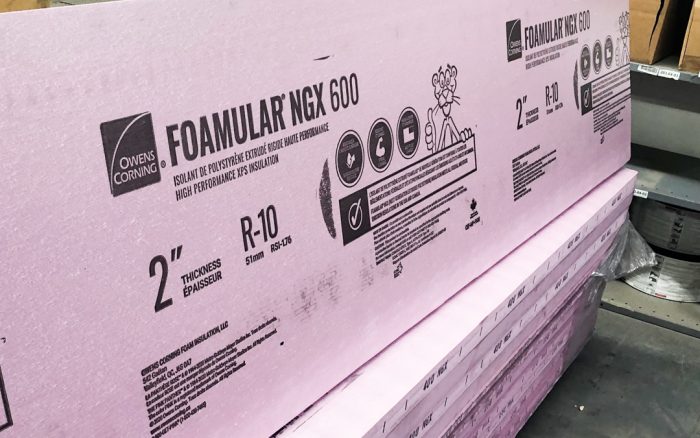 Two of the three manufacturers that sell extruded polystyrene insulation in the U.S. have announced changes in product chemistry that will reduce the insulation's contribution to global warming.
Owens Corning and DuPont both said the blowing agents used to make XPS insulation will have lower a global warming potential (GWP) beginning early in 2021. The announcement from Owens Corning appears to be the more significant of the two, with the company saying it will completely eliminate a hydrofluorocarbon called HFC-134a and replace it with newer chemistry that has a GWP 90% lower than its current blend. Its new board is called Foamular NGX (for Next Generation Extruded).
DuPont also is promoting a revamped XPS made with a lower GWP blowing agent. But the company declined to answer questions about the new formula or what its GWP might be.
The announcements are the latest developments in a long-running legal and regulatory battle aimed at reducing the environmental damage from refrigerants used by a variety of industries, including XPS manufacturers. Beginning with the Montreal Protocol in 1987, efforts were at first intended to remove chemicals that destroyed atmospheric ozone. Now, the push is to find refrigerants that neither destroy ozone nor trap heat in the atmosphere.
For XPS producers, the challenge has been to remove HFC-134a—a widely used hydrofluorocarbon with a 100-year global warming potential roughly 1,400 times that of carbon dioxide—while still meeting various performance and manufacturing requirements. Government efforts to phase out HFC-134a in the production of XPS date back to 2015 when the U.S. Environmental Protection Agency announced a new rule that would eliminate the chemical as a blowing agent in XPS by January 1, 2021. Canada approved a similar rule.
But SNAP Rule 20, as it was called, was successfully challenged in court, with much of the rule vacated by a federal district court in 2017. The U.S. Supreme Court declined to review the decision. Then, in mid-2020, the EPA proposed SNAP Rule 23, which allowed the continued use of HFC-134a in XPS as long as it was in combination with certain other refrigerants. The rule has not been finalized, so it has not taken effect.
Owens Corning said at the time that it was prepared to meet the 2021 deadline for eliminating HFC-134a, and the company has now followed through with a hydrofluoroolefin (HFO) blowing agent. It has a GWP of less than 80, according to Frank O'Brien-Bernini, the company's vice president and chief sustainability officer.
"Yes," O'Brien-Bernini said in an email, "134a has been completely removed."
Foamular NGX will use a proprietary blend called Opteon 1100, which is manufactured by Chemours. HFOs were originally developed by Honeywell for use in spray polyurethane foam insulation, but XPS manufacturers until now haven't been able to adapt the chemical for use in their products.
The transition away from HFC-134a is likely to please green builders who have objected to the use of XPS because of the current blowing agents. They have preferred expanded polystyrene (EPS), even though it has a lower R-value per inch, because the pentane used as a blowing agent has a GWP of about 7.
O'Brien-Bernini said Foamular NGX would be available in Canada and in states with a Jan. 1 compliance date for the removal of HFC-134a—a list that includes California, Colorado, New York, Vermont, Washington State and possibly New Jersey—early next year.
"We are not limiting the availability of NGX. Our intent is to make NGX available throughout North American to any customer that wants to purchase NGX," he said. "NGX has virtually all of the same performance attributes as our current Foamular product line, and can be used in all of the applications into which we currently offer Foamular."
The R-value of 5 per inch is unchanged, but the NGX is likely to cost more than its predecessor. O'Brien-Bernini wasn't specific, saying only that the price will be "set by the market." HFO blowing agents cost significantly more than the HFCs the industry has been using.
A confusing legal landscape
The regulatory backdrop for the changes is complicated, and still in flux. Paul Lewandowski, the director of regulatory law at Owens Corning, said in a telephone call that in 2018, following the effective repeal of SNAP Rule 20 for insulation manufacturers, the company focused on changes for the Canadian market where the 2021 prohibition against HFC-134a remained on the books. Owens Corning assumed it would continue using its old blowing agent in the U.S. until Congress stepped in and clarified the situation here.
But individual states intervened, deciding they weren't going to wait for Congress to act. Some of them passed their own bans on HFC-134a that would kick in at the start of 2021. They generally including sell-through provisions that would allow manufacturers to unload stock they had already made with HFC-134a.
In another legal wrinkle, some states adopted what Lewandowski called conforming language that required them to permit the use of a blowing agent that the EPA had approved. If SNAP Rule 23 is finalized by the EPA, DuPont can continue to sell XPS with an HFC-134a blowing agent beyond Jan. 1.
If the rule is not finalized?
"DuPont is going to find itself in a tough situation in about three weeks, I think," Lewandowski said. "Although there is sell-through language, so they may have loaded the market in those states that have regulated HFC-134a. If they've loaded the market with eight or 10 months of product, they may have time to find a solution, test that solution and convert. We don't know, but we're ready, so it doesn't' matter to us except from a cost standpoint.
"Right now," he continued, "as of the first of the year, product that's made after 1/1/2021 cannot be made with a blowing agent containing HFC-134a if you're going to sell that product in Washington, California, Colorado, New York, Vermont or New Jersey."
Styrofoam gets a new color
DuPont's situation is not as clear. The company launched a  website called Beyond Blue to promote the new XPS. It emphasizes its new "design friendly" grey color (the old Styrofoam is blue) and says the revamped insulation will have a reduced GWP. But the company declined to answer questions about what blowing agent it would use—whether it was based on one of the HFC-134a blends, or made use of an HFO.
"DuPont considers the exact formulation changes itself to be proprietary," a company spokeswoman said. "An EPD [Environmental Product Declaration] will be published that serves as an independently verified, transparent communication of the product's life-cycle environmental impact."
The reduced GWP Styrofoam will be rolled out next month in Canada and 10 U.S. states. It will have the same R-value (R-5 per inch). DuPont said pricing would be competitive but wasn't specific.
DuPont was behind proposed rules that loosened the phaseout of HFC-134a in SNAP Rule 23, arguing that despite years of research it had not been able to come up with a suitable replacement for the chemical. How the company views the legal quagmire that Lewandowski described is unknown.
Kingspan, a company headquartered in Ireland, also makes XPS for the U.S. market. Its U.S. headquarters is located in DeLand, Florida. The company did not respond to requests for information.
The trade association representing XPS manufacturers, the Extruded Polystyrene Foam Association, didn't offer any additional information. Drew Brackbill, manager for legislative and regulatory affairs, said in an email, "We can't comment on the topic of HFC-134a at present."
---
-Scott Gibson is a contributing writer at Green Building Advisor and Fine Homebuilding magazine.
Weekly Newsletter
Get building science and energy efficiency advice, plus special offers, in your inbox.