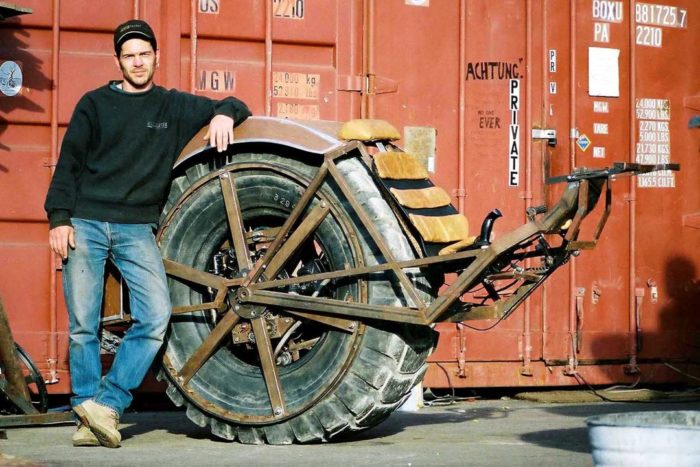 After Henry Ford perfected the automobile assembly line, U.S. industry experienced several decades of explosive growth. Although industrial expansion was interrupted for a decade during the 1930s, it roared back during the '40s, '50s, and '60s. Historians have proposed several explanations for these decades of growing productivity, including the country's high rate of immigration and access to cheap energy and natural resources.
Another possible factor is especially intriguing: Our large farming population produced several generations of skilled tinkerers who excelled at mechanical innovation. According to this theory, rural American teenagers in the 20s, '30s, and '40s spent hours in the barn tinkering with tractors, hay balers, and wind generators. These farm mechanics could make and fix just about anything using a variety of parts from broken-down equipment and the local dump. Many of these self-taught tinkerers later became engineers and industrial innovators.
"Our industry will be crippled"
The decades of increasing U.S. productivity might be called the "Can Do" era. Sometime around 1970, however, the tide shifted. At the risk of oversimplification, it's tempting to say that U.S. industry made a transition to a new era — the "It's Impossible" era.
Among the leaders of the "it's impossible" camp are U.S. automakers. For decades, automakers sent an army of lobbyists to testify before Congress that auto safety, efficiency, and clean-air mandates would cripple the industry and make cars unaffordable. Among the innovations that these lobbyists resisted were mandatory airbags, catalytic converters, and improved gas- mileage standards.
Once Congress finally got the courage to increase safety, mileage, and clean-air standards, guess what happened? The cost of the innovations quickly dropped.
Appliance manufacturers imitated automakers by hiring lobbyists who claimed that proposed refrigerator-efficiency standards were burdensome and unaffordable. Once new efficiency standards were enacted, however, manufacturers…
Weekly Newsletter
Get building science and energy efficiency advice, plus special offers, in your inbox.
This article is only available to GBA Prime Members
Sign up for a free trial and get instant access to this article as well as GBA's complete library of premium articles and construction details.
Start Free Trial
Already a member? Log in