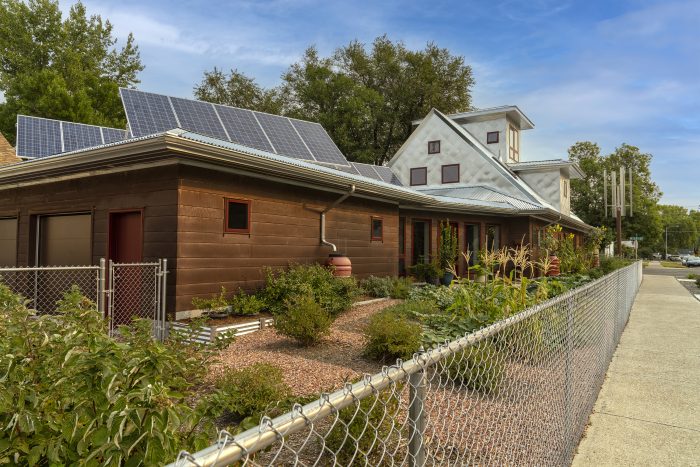 EDITOR'S NOTE: This post is part of a series in GBA's new Expert Exchange program. We will address a quarterly set of topics, the first of which is "Getting to Net Zero." The series will culminate with a webinar panel discussion among contributing experts.
Neil Armstrong and Buzz Aldrin hadn't yet stepped foot on the moon when Americans started using the eventual lunar landing as an idiom for what is possible: "If we can put a man on the moon . . ." what can't we do? Reading over the Seven Petals of the Living Building Challenge, and each petal's many imperatives, the program seems an appropriate use of the expression. At the time of its certification in 2016, High Plains Architects' Urban Frontier House was one of only three homes worldwide to meet the standard as a "Living Building." In other words, humans were more likely to rocket off to the moon than to certify a home with the International Living Future Institute. And still are. Still today, only four homes have taken this giant step.  
While the 2400-sq.-ft. house in Billings, Montana, has some pretty cool details, including a phase-change material in the walls, a wind turbine in the yard, and a garden in the house, what it doesn't have makes it even more interesting. It doesn't have a municipal water supply, or a well. It doesn't have a city sewer connection, or a septic system. And it doesn't have a mechanical heating or cooling. It is grid-tied, and with a 6.02 kW rooftop PV array, is achieves net-positive-energy production. For the architect and owners, Randy and Janna Hafer, the house fulfills an aspiration, but is also a lab and a work in progress. "We were pushing so many envelopes here, we'd never get anyone else to…
Weekly Newsletter
Get building science and energy efficiency advice, plus special offers, in your inbox.
This article is only available to GBA Prime Members
Sign up for a free trial and get instant access to this article as well as GBA's complete library of premium articles and construction details.
Start Free Trial
Already a member? Log in