Supplying fresh air while exhausting stale air
A balanced ventilation system uses a supply fan to introduce the same volume of fresh outdoor air that is being simultaneously removed from the house by an exhaust fan. These systems are more complex than supply-only or exhaust-only ventilation systems, but provide better fresh air distribution and in some cases lower energy bills than alternative systems.
Heat-recovery ventilators and energy-recovery ventilators
The most sophisticated types of balanced ventilation systems incorporate either heat recovery or energy recovery, offsetting some of the energy penalty associated with bringing in fresh air from the outside. In winter, fresh air pulled into the house is warmed by outgoing air in a heat exchanger that is capable of capturing 60% to 80% of the heat. If the house is air conditioned, summer exhaust air may cool incoming fresh air before it's circulated in the house.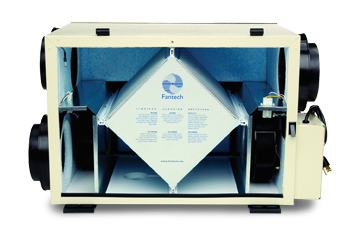 The two systems are similar, although an energy-recovery ventilator (ERV) has the additional capability of transferring some of the moisture in the air as well as heat. A heat-recovery ventilator (HRV) transfers only heat. ERVs help retain humidity in indoor air in winter, potentially making a house more comfortable. However, research has shown that ERVs do not provide lower levels of indoor humidity in air-conditioned houses when compared to HRVs.
HRV and ERV systems are more complex, more expensive, and require more maintenance than balanced ventilation systems without heat recovery. Moreover, not all HVAC contractors know how to install them.
However, they offer significant energy savings compared to ventilation systems without heat recovery.
In 2014, a small manufacturing company in Illinois (Build Equinox) began selling a new type of balanced ventilation appliance called the CERV. For information on the CERV, see A Balanced Ventilation System With a Built-In Heat Pump.
If you're set on installing a…
This article is only available to GBA Prime Members
Sign up for a free trial and get instant access to this article as well as GBA's complete library of premium articles and construction details.
Start Free Trial
Already a member? Log in