Foundations should be well insulated and keep water at bay
Depending on where you're building, a conventional foundation could be made from poured concrete, brick, block, or stone. Because the foundation is buffered by the earth, temperature swings are less extreme than at the roof, but moisture issues are very important: Every drop of water that hits the roof and walls runs off to the ground.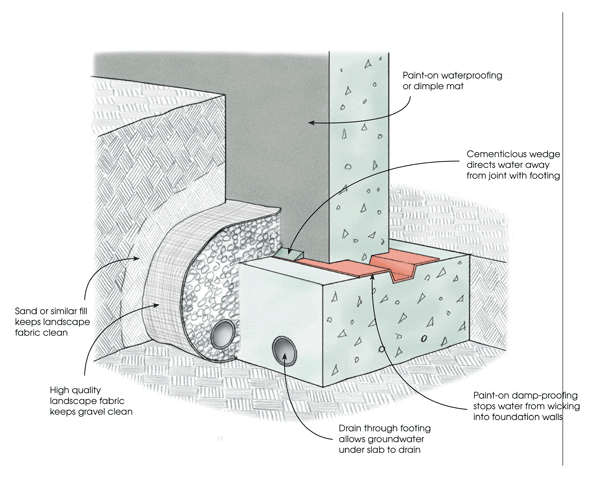 Footing drains help a foundation stave off groundwater. And foundations also have to disrupt capillarity, the tendency of concrete walls and floors to wick water inside. A foundation is a bad place to cut corners because problems are expensive and complicated to fix after a house is finished.
Except in the mildest climates, insulation should always be installed under slabs, at slab perimeters, and at basement and crawl space walls.
Foundation preferences differ around the country.
Slab foundations work well with radiant floor heating. They can also be a finished floor, which saves a lot of money. Slabs work well in areas that have high water tables and, in frost-protected versions, can be an inexpensive way to get out of the ground in cold areas as well.
Crawl spaces are said to offer none of the benefits of a basement and all of the drawbacks, but they can be built to provide warm and dry storage space. Some people choose them in order to save money on excavation and concrete costs up-front. A sealed and conditioned crawl space can be a good place to put mechanical equipment. Building codes often require that unconditioned crawl spaces be vented to the outside, which can bring in excessive moisture and cause health and durability issues.
Basements provide extra potential living space if detailed well enough to stay dry. For the extra cost of digging a little…
This article is only available to GBA Prime Members
Sign up for a free trial and get instant access to this article as well as GBA's complete library of premium articles and construction details.
Start Free Trial
Already a member? Log in