Heat pumps don't create heat in the same way that a fuel-burning appliance does. They do need electricity (or another fuel source) to operate, but they can produce several times as much heat energy as the electricity they consume. However, a heat pump's ability to extract heat is not unbounded; at some point it can get cold enough outside that air-source heat pumps become unable to maintain the indoor temperature (balance point). Although the relevant outdoor temperature may vary depending on the heat pump design, this rule applies to every air-source heat pump.
Ground-source heat pumps are among the most expensive mechanical systems to install, but they provide heating and cooling, so the higher cost is a little easier to swallow. Air-source heat pumps are more affordable than ground-source heat pumps.
Air-source versus ground-source
There are two basic kinds of heat pumps used for residential space heating: air-source heat pumps and ground-source (sometimes called geothermal) heat pumps. Ground-source heat pumps can be open-loop or closed-loop systems.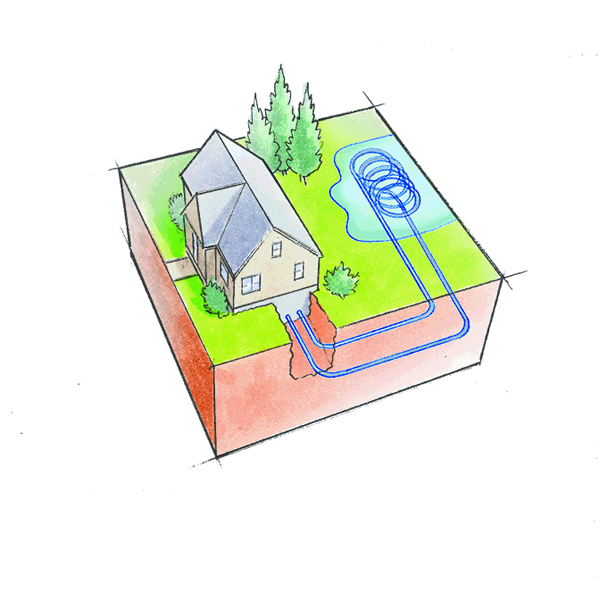 Water loops are open or closed
Open systems draw water from a pond or well, circulate it through a heat exchanger and then dump it back. These are less expensive than ground-source heat pumps using buried loops of tubing or vertical loops in a drilled well.
Closed systems circulate fluid through a loop
Loops of plastic tubing are filled with water or an antifreeze solution, and the loops are buried in horizontal trenches, dropped into vertical wells, or submerged in a pond. Horizontal-loop systems typically require hundreds of feet of trenches and are generally not feasible in urban areas. Vertical loops are more expensive but fit in much tighter sites.
A variation on the closed system is the direct-exchange system that uses a buried copper loop filled with circulating refrigerant instead of…
This article is only available to GBA Prime Members
Sign up for a free trial and get instant access to this article as well as GBA's complete library of premium articles and construction details.
Start Free Trial
Already a member? Log in