THE PASSIVE HOUSE SERIES
Built to meet the world's most rigorous standard for energy-efficient construction, a Passive House uses about one-tenth as much heating energy as a similarly sized older home. This feat is accomplished by carefully harmonizing countless design and construction details. At the time of this writing, just 71 houses have earned the Passive House Institute U.S. (PHIUS) certification. Architect Steve Baczek is responsible for designing a handful of them.
Episode 1: Designed for Success
One architect's approach to designing a house to meet the country's most stringent energy requirement
Read the article (Watch video above)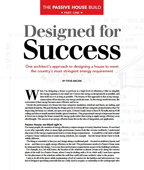 ---
Episode 2: Air-sealed Mudsill Assembly
You only have one chance to get this critical detail perfect
Read the article Watch the video
---
Episode 3: Superinsulated Slab
If you aren't insulating the edge, you're only doing half the job
Read the article Watch the video
---
Episode 4: Framing for Efficiency
Double-stud walls and trusses create the ideal shell for an economical and efficient building
Read the article Watch the video
---
Episode 5: Installing High-Performance Windows
By far the weakest link in a Passive House, windows must be installed perfectly
Read the article Watch the video
Join GBA Prime Today
To watch the complete Passive House series and read the companion Fine Homebuilding articles, click here to join GBA Prime. Then, join the conversation with Architect Steve Baczek in the comments at the bottom of this page.