Bird's-Eye View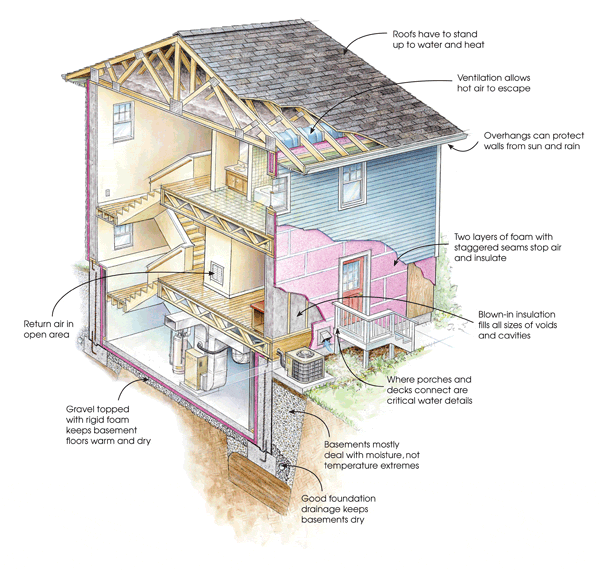 Three parts united in keeping the outdoors out and indoor comfort in
The roof, walls, and foundation enclose the house, and the choices we make on these three parts of the structure might be the most important decisions we make. All have to accomplish the same things: stop air, slow the movement of heat, shed water, and dry out so that the building won't support mold growth and rot. The priorities of roof, walls, and foundations, however, are very different.
They all see the same elements — wind, water, sun, hail — but in different proportions.
See below for:
Stop Water
Rain can run up roofs too.
##Water is every house's worst enemy
Roofs and walls usually have redundant water barriers. For example, a concrete tile roof has a layer of #30 asphalt felt to stop any water that gets through the tiles, just as a brick-veneered wall has a water-resistive barrier to stop any water that gets past the bricks. A basement wall is coated with asphalt on the exterior to repel water, but the system depends on a good footing drain to keep the basement dry if the water table rises.
Slow Heat
In winter, heat is good; in summer, it's bad
When you're paying money to heat a home, it's important to keep that heat in; and when you pay to cool a house, it's important to keep heat out.
Insulation in roofs and walls can stop radiant heat and reduce the transfer of conductive heat. Windows can also play a huge role in heat management, and they use a variety of technologies to keep heat in during winter and out during summer.
Control Air
Air barriers are crucial: Leaks happen at corners, junctions, and holes
Where the foundation meets the floor framing, the floor meets walls, and where the walls meet the roof are trouble spots for air leaks.
Other problem areas include interior kitchen soffits, plumbing chases, cantilevered floors, and enclosures around metal fireplaces.
Careful detailing at these spots with gaskets, sealants, and spray foams can ensure a continuous air barrier.
Permit Drying
Design a house to dry out (or in) when it gets wet
Moisture from both outside and inside a house can thwart your best efforts at keeping the building dry. Realistically, a little moisture intrusion is inevitable, so it's a good idea to design a house so that it can dry. Walls that can dry to either the outside or inside are good, but walls that can dry to both the outside and inside are even better. Dry design can be accomplished by thoughtful material and design choices.
RELATED ENCYCLOPEDIA ARTICLES
OTHER CONSIDERATIONS
Site drainage is an extremely important factor in how a foundation performs.
Before you dig, get the best angle on the sun for free heat and light.
Integrated design matters because if everyone isn't on the same page before you break ground, you'll waste a lot of time, money, and materials getting on the same page later on.
Let the earth help with heating and cooling. Not far below ground, the earth remains at a steady temperature year-round. Below-grade living spaces are not subject to the same temperature swings as conventional houses, and stay comfortable in both winter and summer with less energy consumption. In hot, dry climates, earth-sheltering a house may allow the elimination of mechanical air conditioning altogether.
Consider prefabricated building components. Ordering panelized wall and roof sections, or whole modules, means less waste at the construction site and gets the house up much faster than conventional approaches.
KEY CONCEPTS
A durable house is good at stopping water and drying out. An energy-efficient house is good at stopping air and heat flow. Green houses are both.
THE DEVIL IS IN THE DETAILS
A good air barrier demands attention to detail
Although some methods of construction — for example, SIP or ICF construction — are often touted for their ability to reduce air infiltration rates, there is no single magic bullet for creating a perfect air barrier. No matter which approach is taken, the devil is in the details.
AIR-SEALING TIPS
* For rigid foam, use multiple layers with staggered seams.
* Pack wall cavities with cellulose or sprayed-in foam.
* Spray-foam the rim joist.
* Seal ceiling holes with canned foam.
* If the house includes ductwork in the attic, insulate the roof rather than the ceiling.
* If the house includes housewrap or foam sheathing, tape the seams.
GREEN RULE OF THUMB
On any job site:
"If you drill the hole, you seal the hole." Almost every trade has occasion to drill through the air barrier at some point; to pull a wire, insert a pipe, or install a bolt. Everyone on the job should have access to an appropriate sealant or spray foam.
RUBBER GASKETS
Blended rubber ethylene propylene diene monomer (EPDM) gaskets can be used to seal a variety of gaps, including:
between the sub-floor and the bottom plate of a wall;
between the rough opening of a window and the window frame;
seams between SIPs.
DRYWALL AS AN AIR BARRIER
The "airtight drywall approach" (ADA) is a method of air-sealing a house by installing an interior air barrier.
The ADA method requires drywall hangers to install an EPDM gasket between drywall and the bottom and top plates of walls, as well as between drywall and rough openings for doors and windows. The method also calls for air sealing at other locations, including rim joists and attic penetrations.
For full effectiveness, the method requires airtight electrical boxes.
BUILDING SCIENCE 101
How heat moves
Conduction is the transfer of heat through direct contact. When you put your hand on a hot frying pan, you experience conduction.
Convection is the movement of a gas or liquid in response to heat. Hot air rises, cool air sinks. If you place a piece of tissue paper over that hot frying pan, it will float up with the hot air currents.
Radiation is the transfer of heat from one body to another through space. If you hold your hand above the frying pan, you feel the heat from radiation.
The reality is that all three of these mechanisms work together in different proportions all the time. Consider, for example, a typical vented attic with fibrous insulation in the attic floor:
The sun heats up the roof shingles (radiation);
The shingles heat up the felt paper, plywood, and rafters (conduction);
The hot roof assembly heats the air in the attic, which rises out the ridge vent and sucks air in through soffit vents and leaks in the ceiling (convection).
Attic floor insulation doesn't stop the convective currents — air goes right through it; but it does cut radiant heat. If the insulation can keep the radiation at bay, the ceiling framing and drywall will conduct heat into the living space at a slower rate.
GREEN POINTS
LEED for Homes 3 points available for durability management, ID2 (Innovation & Design Process) in addition to mandatory measures.
NGBS Under Chapter 9 — Indoor Environmental Quality: up to 10 points for moisture management (903.4).