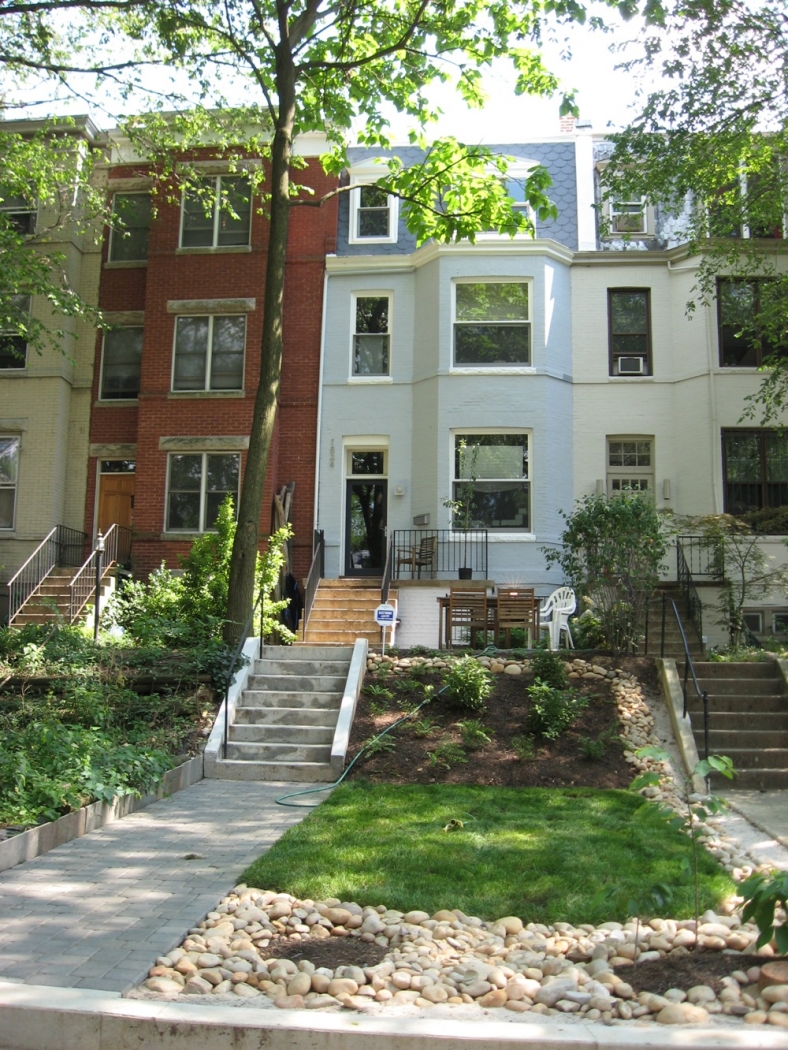 Green realtor Amy Levin uses her background in construction, housing market savvy, and sheer will to achieve Platinum on her LEED for Homes gut rehab of a DC rowhome
"It was easier than I thought," says Amy Levin when first asked about her LEED for Homes Platinum gut rehab. This would not be the last time my jaw would drop when dealing with Amy; she is a completely unflappable, sharp as a tack, force of nature. She is a born problem-solver and her favorite retort is most certainly "why not" rather than "why." The devil is always in the details; here is the rest of the context on Amy's "easy" version of LEED Platinum.
Using the LEED for Homes checklist to drive the process
Amy used the LEED for Homes rating program and checklist to drive her own green building learning curve as well as her design and building process. "I had done some green building in the past," recalls Amy, "but it was not a comprehensive or integrated process. We did not use the LEED for Homes checklist as prescription, we used it to learn, evaluate, and prioritize. The LEED for Homes program checklist is a really great organizational tool."
"While this approach is not the ideal, it is quite common and can work" says Asa Foss, Amy's LFH rater, her primary green building consultant and now Manager for LEED Technical Development at the USGBC. "The danger in having the checklist in the driver's seat is turning your project in to a point-chasing exercise. While point-chasing was definitely not an issue with Amy's project, it's an important hazard to avoid."
Fully utilizing local green resources
Amy is quick to point out that she was fortunate during her project. "First," says Amy, "I had Asa as my ace; his availability, knowledge, and willingness to work with me as the general contractor was a huge green advantage." "And discovering local resources like Marcus Sims (Treincarnation) and The Community Forklift were key for green rehab." TreIncarnation supplied lots of surplus salvage finish materials and The Community Forklift's salvage retail operation was a great two-way street for the project, taking from and supplying to Amy's project.
Making the numbers work
While Amy had a substantial budget for her project, it was definitely finite: "My budget was $500,000 and we came in at $495,676.92. I kept expecting the green building BigFoot to come and crunch the project, but I really believe that there was no real premium. Think of it this way: my apartment rental income covers more than what my mortgage would be on this project. My peak monthly utility bills are less than half those of my neighbors, and my home is more comfortable with better air quality."
Amy is clear that some individual components came at a premium: higher SEER AC unit, her solar water system, top-of-the-line household appliances. But here is a list of project elements where she is sure she saved money going green: a salvaged kitchen cabinet and granite countertop for her rental unit kitchen ($500), powder room vanity made from site-salvaged lumber ($50), river-run fieldstones for front yard landscaping (free from her 4 feet of basement excavation).
And as a realtor, Amy is confident she can take the value of her LEED Platinum project with her if and when she sells her home. "There is real value here that I can show, from the comfort and health perspectives, but also by simply sharing my utility bills!" says Amy with a smile.
An interesting twist: Salvaging art as well as the building
The emphasis on salvage is pretty clear in Amy's home: the reuse of the original heart pine flooring, rough framing planed and used for the powder room ceiling exposed latticework, the upstairs laundry framed with salvaged two by fours. But the most impressive and unique salvage during the project was not building materials. It was the paintings of EJ Martin that Amy discovered half-buried in the dirt of the basement and even behind drywall from previous renovations. EJ Martin lived at 1834 Ingleside Terrace for many years, at times even paying his rent with his work.
"They were far too beautiful to toss," says Amy. "It was more than worth it to restore what we could and keep them with this house." EJ Martin's paintings are hung throughout Amy's home.
Weekly Newsletter
Get building science and energy efficiency advice, plus special offers, in your inbox.
Lessons Learned
Amy was not particularly fond of being a green guinea pig for some of her materials. "The Columbia Forest Product Purebond door on the largest cabinet never worked; it warped badly," says Amy, "and we finally just had to replace it."
"I also completely underestimated the need for residential lighting design," adds Amy. "We got energy-efficient lighting products, but the location of lighting is sometimes an issue and also the balance of task and background lighting is wrong." Amy wishes she had known about residential lighting design guidance from IBACOS (High Performance Lighting Guide) and from RPI (Builder's Guide to Home Lighting).
"Frankly," says Amy, "it was the regular headaches that had little to do with green that I wish I could do over again, like finding the right plumber!" Amy wrapped up by saying how hard it is to figure out the right way to "divvy up" four stories of a rowhouse between the rental and the live-in portions.
Energy Specs
- Air tightness = 4 ACH50
- Heating efficiency (heat pumps): 9.0/8.2 HSPF
- Cooling efficiency (heat pumps): 17 SEER
- All ducts in conditioned space
- Water heating: 0.82 EF (see below for solar water heating)
- Energy Star windows (U-value=0.3; SHGC=0.29) (glazing to floor ratio=12%)
- Seagull Energy Star Lighting
- KitchenAid Energy Star appliances
- Evacuated tube solar water system (supplying 77% of total hot water)
NOTE: Jeldwyn Doors and Marvin Windows from Midsouth Building Supply Co. (only companies meeting size and historic requirements)
NOTE: All sealants from AFM Safecoat
Water Efficiency
- Limited turf: 17% of landscaped area
- Drought-tolerant plantings: 100%
- Roof rainwater harvesting system: 63% of roof area
- High Efficiency Fixtures (toilets, faucets, showerheads)
NOTE: All plumbing supplies, including Toto dual-flush toilets, from Thomas Somerville
Indoor Air Quality
- Ducts sealed off during construction
- Home flushed continuously for one week prior to occupancy (windows open)
- No attached garage
- MERV 13 air filter
Green Materials and Resource Efficiency
- Framing waste factor = 0%
- Advanced framing techniques
- Construction waste diversion rate = 90%
- Salvaged heart pine flooring
- Salvaged kitchen countertop and cabinet set (basement rental unit)
- Site-salvaged river stones for landscaping
NOTES:
a. Metal stairs with FSC-certified treads from The Iron Shop
b. Paint - Harmony
c. FSC-certified interior doors- MidSouth Building Supply
d. Concrete - Fly ash, recycled aggregate: DC Materials
e. Cabinets - Eco Green Living
f. Countertops and bath sink Eycon
g. Recycled ceramic tile - Nature Neutral
h. Trex decking - MidSouth Building Supply