Creating ICF / Foxblock-style Footing Using EPS Sheets + Rebar
Greetings everyone –
I am trying to figure out an economical ICF design using 4×8 sheets of EPS rather than expensive manufactured ICFs.
After some hunting, I came across a product called the foothold, but they only make them 20″ wide. Could be useful for folks building ICF walls or other alternative methods: http://thefootholdicf.com
I was scheming about creating some type of rebar structure to hold the foam in place, with the trench walls providing exterior support. This drawing was based on using 2xrebar L's, tied together to form an 8″ rebar "box", but I was also considering 8″ pieces of lateral rebar with caps or even a course of elevated concrete blocks every few feet. Sorry this is a bit stream of consciousness, but I'm curious what other ideas are out there.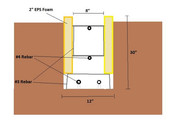 Do most folks here on GBA use ICF footings/stem walls? If so, what techniques/products do you use?
Cheers,
Zane