Building an Energy- and Materials-Efficient Shed
I had asked some initial questions about this project a few months ago and am grateful for the helpful advice I received.  I live in the Pacific Northwest (climate similar to Seattle but a little colder,) and I'm building a shed this summer. I'd like to keep it above freezing year-round. Ideally, it will be efficient enough that I can prevent it from getting below freezing with 100-400 watts of incandescent light bulbs.
I'm trying to not go overkill on wall thickness because the maximum size is 100 sq ft as measured along the outside walls.  I'm also trying to keep things simple where possible so I don't end up with too many half-pieces of material at the end of the project.
I am narrowing in on a few things:
1) It will be 8'*12′
2) I will build it on a wooden platform (it will have floor joists) elevated on blocks above the ground. (It may be moved by machine in the future to a different location.)
3) No windows.  One 36″*80″ insulated metal door.
4) No vapor barrier but I will be very careful about air sealing.
5) Furring strips/rain screen with horizontal siding.  Asphalt shingle roof.
6) It will have a simple roof as shown in this diagram: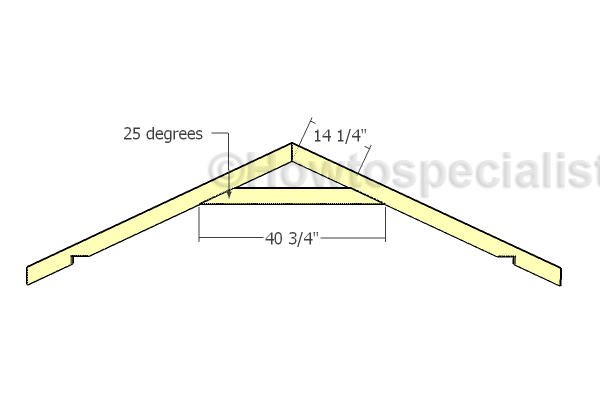 I have two questions:
1) For the wall assembly, will there be much of a difference between:
A) 2*6″ studs at 24″ centers filled with Rockwool batts
vs
B) 2*4″ studs at 16″ centers filled with Rockwool batts and then a layer of Comfortboard on the exterior
2) For the roof assembly, I have a few options. Assume 2*6″ rafters.
A) Fill the 2*6″ rafters with Rockwool bats.  There will be a sheet of sheathing on the top of the rafters (with tar paper and then shingles above that.) There will be sheets of plywood or OSB on the bottom of the rafters and cross brace, forming an elevated ceiling.  The ~6″ thick assembly will be unvented and completely filled with batt insulation (no venting at the soffits).
B) Build a flat ceiling at the height of the walls.  I will lose some of the storage volume inside I likely would have struggled to use that space anyway and it will result in a smaller area to heat.  Put loose fill or batt insulation on top of the ceiling but leave a gap below the bottom of the roof sheathing.  Make it a normal vented attic (ridge vent and soffit vents.)
C) Similar to B, but make it unvented.  Cram the entire attic with insulation.  Given that it is barely heated and not lived in, I do like the idea of an unvented assembly if I can get away with it.  It's a lot simpler to build, allows me to get some more insulation in there, and I'll be less likely to have problems with insects or rodents.
Thanks in advance for any ideas and advice.