Air Leakage, Brick Veneer, and Thermal Mass Heat Transfer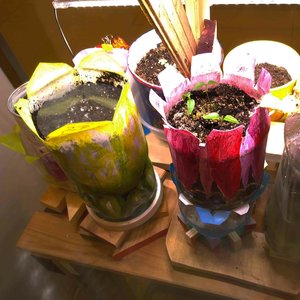 Mr. Martin Holladay and Malcolm Taylor (whom I have asked questions to previously several years ago now),
I am a sole proprietor architect near the Toronto area in Canada for about 17 years. I have learned to be very concerned about the gaint air-leaky brick veneer homes that developers here have been building in the suburbs of TO for decades.
Can I ask if the standard door blower test can measure the slow constant air-loss aided by the 1″ air space the convection movement behind the brick veneer with weep holes?
I also have a concept of creating these solar rammed earth chimneys to create thermal heat for the exterior masonry with the help of earthern tubes which I read several articles here to bring constant warmer outside air to the basement mechanical heating units. I can provide a sketch of the idea in a later email. Do you think if the exterior masonry wall say 2 wyths of brick 8″ thick if it is warmed by thermal mass heat transfer of the exterior solar rammed earth chimney could that provide a sort of buffer zone to slow down heat loss for the detached homes in our Cold Climate?
I have been busy for the last few years designing for the cause of Urban Agriculture as a do-good hobby at my office during my office arch projects downtime…if I may say that.
My website for repurposing plastics and other Urban AG initiatives is here:
http://www.lowelllodesign.com/things-permaculture/
Thanks you all for your insights and attention here again
Lowell Lo
OAA Architect  LEED AP  Green Roof Professional as well..