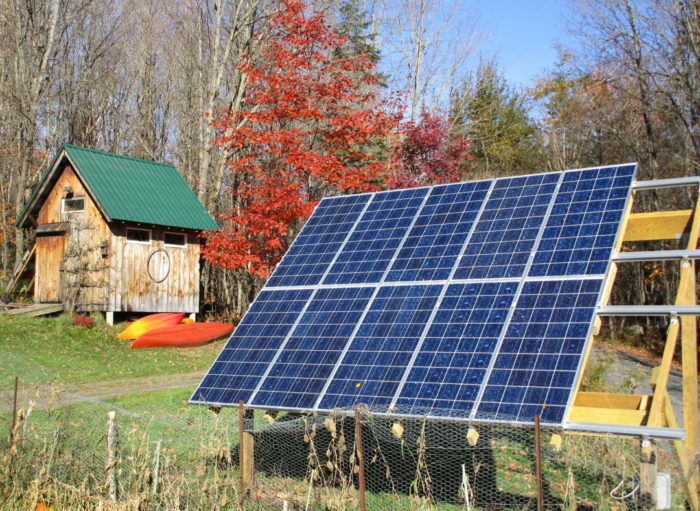 I've lived in an off-grid house for the past 39 years. Since I make my own electricity, my electricity costs are much higher than those of most Americans. Because of my off-grid lifestyle, I often lack perspective when I try to help people who ask questions about ordinary energy choices. (I've had to compensate for my lack of relevant experience by undertaking anthropological studies of my grid-connected neighbors.)
Back in the old days, I used to haul water in a bucket from the spring, and I made whole-wheat flour with a hand-cranked mill. (Don't ask.) So when I'm in a retrospective mood, I can be amazed by simple things.
"Look: all I have to to is turn this little knob and water flows out of the faucet!"
"If I flip this switch, the mill will make flour by itself!"
Karyn and I try to keep our batteries charged, of course. In sunny weather, we get most of our electricity from our rooftop photovoltaic (PV) array. When the weather turns cloudy, or days get short, we have to charge the batteries with a gasoline-powered Honda generator.
Since I still have vivid memories of the old days, when I did everything by hand, I'm grateful for the conveniences made possible by our Honda generator. But generators are a pain. Anyone who lives off-grid has a visceral understanding of how complicated it is to burn fossil fuels to create the rotary motion needed to power a generator or alternator. Gasoline-powered generators are noisy, require frequent maintenance, and use expensive fuel. Every kilowatt-hour we generate this way is hard-won and expensive.
One solar panel at a time
I bought my first PV module (a 33-watt Arco panel that cost $275, or $8.33/watt) in 1980. My PV array (like those of…
Weekly Newsletter
Get building science and energy efficiency advice, plus special offers, in your inbox.
This article is only available to GBA Prime Members
Sign up for a free trial and get instant access to this article as well as GBA's complete library of premium articles and construction details.
Start Free Trial
Already a member? Log in