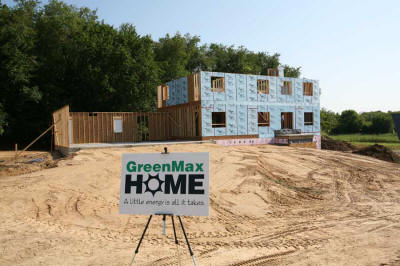 Back in April, GBA noted the completion of a house near west-central Wisconsin's Black River that was built to net-zero-energy performance standards and was the inaugural project of GreenMax Home, an initiative developed by regional utility WPPI Energy to encourage energy efficient remodeling and new-home construction.
Once a home design qualifies for the GreenMax Home program, WPPI Energy helps offset the cost of the project's incremental energy efficiency upgrades. The second project to make it into the GreenMax portfolio is now being constructed in Stoughton, Wisconsin, 12 miles southeast of Madison.
The 4,000-sq.-ft. home will feature a 5.76 kW solar power system, with two pole-mounted 2.88 kW arrays that will tilt to accommodate the movement of the sun; two ground-source heat pumps; a plumbing system that delivers hot water to faucets quickly, reducing water waste; strategically placed Energy Star-rated windows; an airtight shell with R-5 insulation on the exterior, BIBS blow-in-blanket insulation in the 2×6 walls, and foam blown into the box sill framing; and 2-inch R-10 insulation on the exterior of the basement walls and under the basement floor, with BIBS insulation in the 2×4 interior basement walls.
The cost to transform the house from highly efficient to net zero is pegged at $99,000. The owners qualify for $17,000 in incentive funds from Wisconsin's Focus on Energy program, $24,000 in federal tax credits, and a $42,000 WPPI Energy GreenMax Home grant. Eighteen thousand dollars of that grant was awarded at project kickoff. Another $18,000 will be awarded upon completion of construction, and $6,000 will be awarded for meeting the project's energy-use goals a year after the house is completed. The owners will cover the remaining incremental costs for the upgrades – about $16,000.
Weekly Newsletter
Get building science and energy efficiency advice, plus special offers, in your inbox.