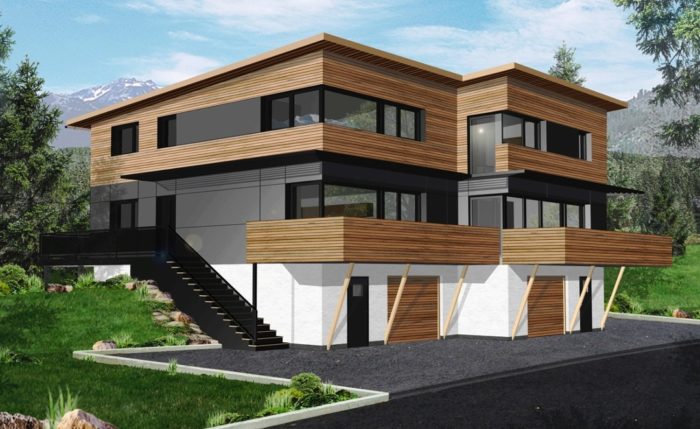 UPDATED: To reflect clarification of interior sq. ft. for each unit in Rainbow Duplex.
Given all the money and marketing that went into the construction of Austria Passive House 2010 – a showcase for Austrian Passivhaus construction products and techniques that attracted a lot of attention during last year's Winter Olympics in Vancouver, British Columbia – members of the design-and-construction team that worked on the building thought it made good business sense to apply their know-how to a residential project that not only strives for Passivhaus performance but is also affordable.
The 3,000-sq.-ft. Austria Passive House, or Austria House, as it was widely known, served as a communications center for the Austrian Olympic Committee and now is operated as an outdoor-activities center by the resort municipality of Whistler, which had donated the land for the project. Austria House cost about $1.23 million to build, including a $143,000 grant by the Whistler Blackcomb Foundation, although many of the construction materials for the project were donated by Austrian companies to help market their products.
Emphasizing housing opportunities for local employees
Builder Dürfeld Constructors, a Whistler-based company that was general contractor on the Austria House, and Marken Projects, a designer based in Vancouver, are now teaming up on an affordable-housing follow-up called the Rainbow Duplex. To help control costs, the project's floor, walls, and roof will be built from prefabricated panels and will incorporate "as many local, renewable, and recycled materials as possible," Marken says on its website.
Construction started just a few weeks ago, and the duplex is scheduled for completion in the fall or 2011. Each unit will include four bedrooms and two baths in about 1,450 sq. ft. of living area, plus about 700 sq. ft. of garage and basement. The project is part of the Resort Municipality of Whistler's Resident Housing initiative, whose affordability requirements are designed to keep costs on new construction below Whistler's (relatively high) average real estate prices, and to provide housing for the community's resident employees. Projects in the Resident Housing program typically are built on infill lots rather than in outlying areas, in keeping with Whistler's goal of housing 75% of its workforce locally.
A first step toward lowering construction costs
Dürfeld Constructors is building the panels – TJI joists with wood fiberboard on the outside, oriented strand board on the inside, and blown-in cellulose – to R-47 for the walls, R-67 for the main floor, and R-63 for the roof. Optiwin windows and siding will be installed before the panels are delivered to the site, Alex Maurer, a director of Marken Projects affiliate Fab-Homes, told GBA. (Fab-Homes offers a range of relatively inexpensive designs for homes that include a number of Passivhaus features.)
The units will be equipped with Zehnder 350 heat recovery ventilators and Comfofond subsoil heat exchangers. Maurer expects the per-square-foot cost for the Rainbow Duplex to come in at a little more than $200, although the design-build team has come up with ways to fine-tune the prefabricated-panel system to further reduce costs. The per-square-foot cost for a second, similar project now underway, for example, is expected to be around $170, says Maurer, who adds that most of the savings will come from significantly shortening the on-site assembly time. For a single-family project, he says, assembly of the prefabricated panels now can be completed in as little as eight hours.
Weekly Newsletter
Get building science and energy efficiency advice, plus special offers, in your inbox.