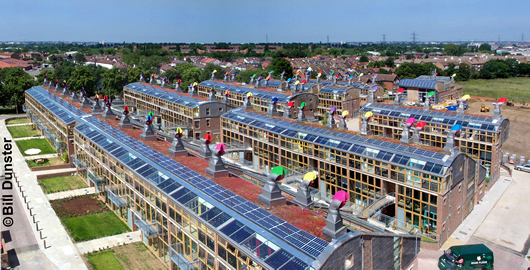 New homes will have to be net zero energy by 2016, and gearing up for the shift has to begin immediately
By the time Britain's Climate Change Act became law, in November 2008, the country's homebuilding industry had already begun reckoning, at least psychologically, with the breathtaking changes it would have to make in community planning, design, and building practices that would satisfy the key provisions of the law.
The most frequently cited of those provisions are the legally binding targets for greenhouse gas emissions in the U.K.: a reduction in CO2 emissions of at least 26% by 2020 (against a 1990 baseline) and a reduction by 80% of all greenhouse gas emissions by 2050.
A recent New York Times feature on the subject explains homebuilding's role in these calculations: while commercial buildings account for 18% of Britain's overall carbon output, home energy use accounts for 27%, which makes that sector a prime target for energy efficiency requirements.
There's no denying the merits of the law – environmentalists in fact complain it doesn't go far enough – but the rate at which it imposes new energy efficiency standards has Britain's homebuilding industry scrambling to not only meet new requirements but do so economically.
A quick ramp-up . . .
The Times story notes that the law's efficiency standards, which were co-developed by industry groups, green advocates, and the government, will be phased in beginning in 2010. Another tier of requirements will take effect in 2013.
And even though the Climate Change Act includes some of the world's most ambitious green goals and strictest rules, it is generally in step with other initiatives in the U.K. and Europe, including tough new-building standards approved this month by the Welsh Assembly Government that aim to cut new homes' carbon emissions by 31% over those built in compliance with current regulations. Those requirements take effect on September 1.
Also, in April, the European Parliament voted 10-1 to require that new buildings constructed after 2018 produce their own energy.
The Times story cited the lingering concerns of England's main homebuilding group, the Home Builders Federation, which had pushed to impose steep energy efficiency requirements on existing homes as well as new ones. That tactic, the group says, would help minimize price advantages for sellers of existing homes, because, according to HBF estimates, a zero carbon house would cost $32,000 more to build than a conventional home
There is some hope that economies of scale will come into play if the U.K.'s sour housing market recovers in timely fashion. As the Times explains, the zero-carbon homes effort coincides with plans to encourage the construction of 3 million houses by 2020 to ease a national shortage. If the market rebounds sooner rather than later, new homes are expected to account for 20 percent of all residences in 2050, according to the Zero Carbon Hub, a public-private nonprofit formed to help implement the new standards.
. . . but with a running start
The U.K. already has a fair share of green-equipment vendors, including the Green Building Store, which has begun carrying a line of building materials for houses that aim to meet the German Passivhaus standard. Among the products available from the Green Building Store are triple-glazed windows, heat-recovery ventilators, and construction tapes.
In terms of the bigger picture, though, architects and planners say they are veering away from the notion that each house built to meet Climate Change Act standards will be a net zero energy dwelling. Rather, the strategy is to achieve compliance with the law through a combination of solid design and renewable-energy sources that serve entire neighborhoods, or even larger communities, collectively.
"The days when we were striving to achieve an airtight box bristling with wind turbines are disappearing," Ewan Willars, head of policy for the Royal Institute of British Architects, told the paper. "Now we're trying to get to zero carbon in the most efficient, most effective manner."
Weekly Newsletter
Get building science and energy efficiency advice, plus special offers, in your inbox.