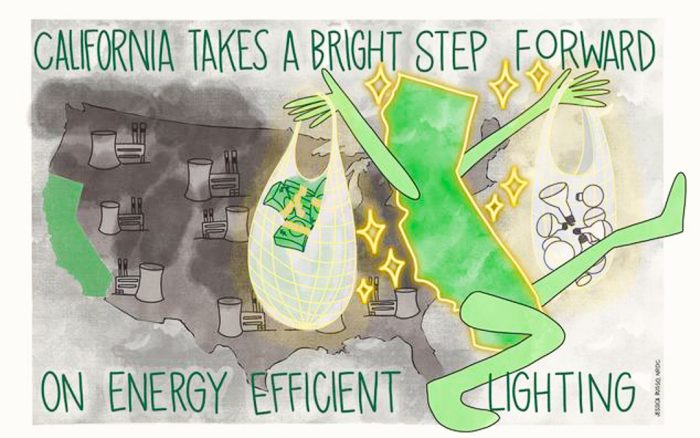 California has once again demonstrated its environmental leadership by adopting updated energy efficiency standards that prohibit the sale of inefficient light bulbs in the state as of January 1, 2020. California's state-level action is needed because of the Trump administration's Department of Energy (DOE) efforts to illegally overturn the national standards that were due to go into effect on that date and complete the phaseout of inefficient light bulbs.
Back in 2007, President George W. Bush signed into law the Energy Independence and Security Act (EISA) that laid out a 12-year plan to transition new bulb sales away from energy-wasting incandescents and halogens to dramatically more efficient alternatives. As required by EISA, DOE reviewed the scope of bulbs covered by the standards and after a thorough process, removed the no-longer-warranted exemptions for some bulbs, including three-ways (bulbs that can operate at three light levels), reflectors, candle- and flame-shaped bulbs, and round globe bulbs. DOE added these bulbs because more efficient versions are now readily available. As a result, the bulbs that go into 2.7 billion U.S. lighting sockets were due to be subject to the 2020 efficiency standards.
Why California needed to act
However, the Department of Energy launched two attacks on the federal standards this past fall—the first was to withdraw the updated definitions, thereby cutting in half the number of bulbs covered by the lighting efficiency standard, and the second was to leave the 2012 standards unchanged despite being required by Congress to update them. These actions are unlawful, and California is striking back.
The California Energy Commission (CEC) voted to adopt the federal regulations as they were originally drafted, including the updated definitions published by DOE on Jan. 19, 2017. This means that as of January 1, it is illegal in California to offer for sale everyday household light bulbs of various light outputs and shapes that fail to meet the minimum efficiency standard of 45 lumens per watt (lumens are the amount of light and watts are the power consumed by a bulb).
Consumers have a wide range of LED light bulbs to choose from that deliver the same amount of light as the old incandescent and halogen bulbs while using a fraction of the energy. For example, the LED bulb that replaces the old-fashioned 60-watt incandescent only uses 10 watts. In addition, the LED bulb will last at least 10 times longer, saving the consumer the hassle and cost of annual light bulb replacements.
Note: Where an efficient replacement bulb does not exist, like those used in ovens and where a LED substitute would fail due to the surrounding high temperatures, incandescent and halogen bulbs will remain exempt and available for purchase.
Californians will save big time
According to the CEC, the California standards will save an additional 4,000 to 13,600 gigawatt-hours of electricity once the current stock of bulbs turns over. That translates to between $736 million and $2.4 billion in annual savings for California businesses and households. These figures are above and beyond the savings already occurring due to California's existing standards that went into effect in 2018 for a few types of bulbs in the home (the pear-shaped A-lamps typically used in table lamps, and small diameter reflector lamps used in track lighting). The efficiency standards will also help prevent the release of millions of tons of climate change pollution from power plants having to generate the extra electricity to keep the inefficient bulbs lit.
Kudos to California for taking this important action despite the likelihood of future lawsuits from the lighting companies, which are desperately trying to preserve their ability to sell energy-wasting incandescents to less-informed consumers for as long as possible.
Let's hope California's actions serve as a wake-up call for retailers across the nation to phase out inefficient bulbs in all their stores regardless of inaction/rollbacks from DOE. Who is going to join IKEA and Costco, which stopped selling incandescents a few years ago? What say you Home Depot, Lowe's, and Walmart?
-Noah Horowitz is director of the Center for Energy Efficiency Standards, Climate & Clean Energy Program, at the Natural Resources Defense Council. This post originally appeared at the NRDC Expert Blog.
Weekly Newsletter
Get building science and energy efficiency advice, plus special offers, in your inbox.