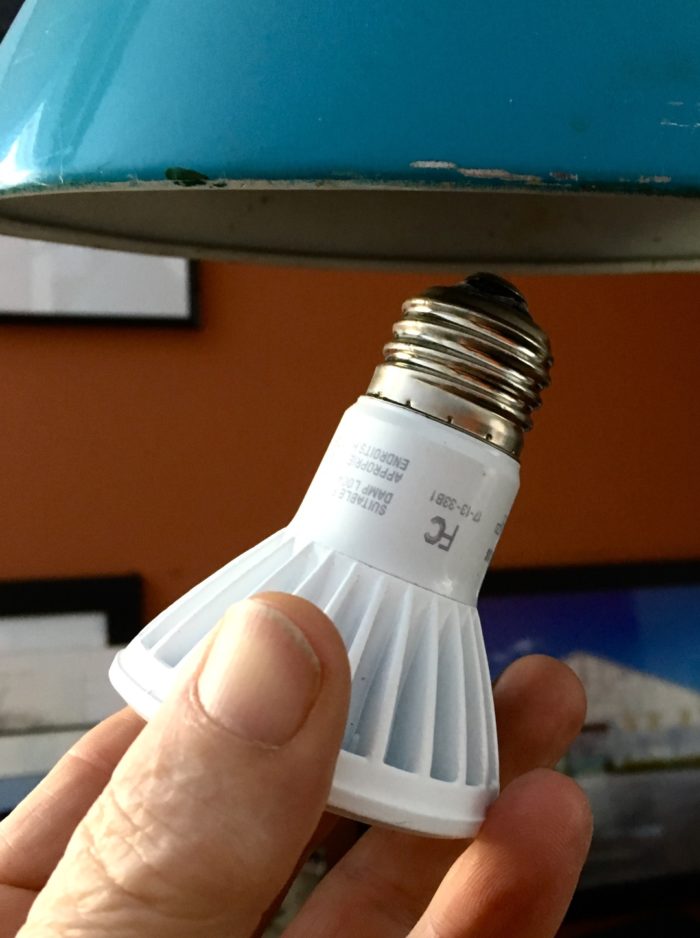 One of the least energy-efficient products in modern history, the incandescent light bulb — a type of bulb that dates back to the days of Thomas Edison — is being permanently retired in California as of January 1, 2018, and in 2020 for the rest of the nation. California is demonstrating its environmental leadership once again by being the first state in the nation to move forward with improved energy efficiency standards for the everyday screw-based light bulb.
With around 250 million sockets in California that still contain inefficient bulbs, the savings really add up. Once all of these sockets switch over to a more efficient alternative — CFL or LED light bulbs — California consumers and businesses will save an estimated $1 billion every year on their electric bills.
The new standards are part of a gradual transition away from the old incandescent bulbs, which had remained essentially the same since Edison created the first commercially available bulb in 1879, to today's lighting technology. Manufacturers and retailers have known about the changes for more than 10 years and responded to the challenge by offering a complete suite of new energy-saving light bulbs that meet the new standards.
How do the standards work?
The California standards cover the common light bulbs we use in our homes. The regulation requires bulbs manufactured on or after January 1, 2018, and offered for sale in the state to achieve a minimum efficiency level of 45 lumens per watt, which is three times more efficient than the old incandescent bulbs. (Note: Lumens measure the amount of light a bulb produces and watts measure the amount of power it consumes.)
Given that no incandescent or halogen bulb on the market comes close to meeting these levels, consumers will be choosing between energy-saving compact fluorescent (CFL) and LED light bulbs. LED bulbs deliver superior performance relative to CFLs, so they are likely to be the bulb of choice going forward.
In California, retailers are allowed to sell through their inventories of inefficient light bulbs manufactured prior to January 1, 2018. For more details on the standard, including information on which bulbs are covered and which are exempt, see this fact sheet.
LEDs do everything except waste a lot of energy
Today's LED light bulb is an amazing product. It is just as bright as the incandescent and halogen bulbs it was designed to replace, gives off the same quality of light, turns on instantly, and uses 80% less energy. Most models are also dimmable. The LED bulb that replaces the 60-watt incandescent bulb only uses 10 watts of power to deliver the same amount of light. LED bulbs also last 15 to 25 years, based on typical daily operation of three hours per day, which eliminates the hassle of having to replace an incandescent bulb every year or so.
In addition to being much better for the environment (less electricity use translates to fewer power plant emissions and cleaner air), LEDs are a great deal for consumers. While LED bulbs once cost around $20, you can now buy one for $2 to $3 per bulb when purchased in a multi-pack. With their much greater efficiency, LED bulbs will save consumers around $50 to $150 over the bulb's lifetime, with the brightest models delivering the biggest savings.
LED bulbs come in all shapes and brightness levels
The lighting manufacturers and retailers have done a wonderful job developing and promoting LED bulbs. Any visitor to a Home Depot, Walmart, Lowe's, Costco, or Target store is presented with a wide display of energy-saving LED light bulbs. In fact, LEDs now dominate the lighting aisle and occupy a lot more shelf space than incandescents and halogens.
You can find LED bulbs from not only the big three lighting companies — Philips, GE and Osram — but also new manufacturers such as Cree, Feit, and TCP.
Replacements for the old 40-, 60-, 75- and 100-watt bulbs are all widely available. While they are not currently covered by the new California regulation, LED replacements are also available for the old candelabra lamps commonly used in chandeliers and sconces, three-way lamps, and large-diameter reflector/flood bulbs.
How do you know which LED bulb to buy?
Rather than buying a bulb based on wattage, consumers should be looking for one that gives off the same amount of light as their old bulb. As few consumers know that their old 60-watt incandescent gave off 800 lumens, manufacturers include equivalency claims on their packages such as "10 W = 60 W" or "60 W bulb replacement." The table below compares the power and light output of common incandescents and their LED replacements.

Some other quick consumer tips:
Bring your old bulb to the store so you can select a replacement with a similar size and base type.
Buy a dimmable model if that's what you are currently using.
LED bulbs offer different "colors" of light. LEDs that mimic conventional incandescent bulbs are marketed as soft white or warm white and produce a yellowish white light. LEDs that give off a more bluish white light are referred to as cool and are sometime marketed under the name "daylight" or an equivalent term. While most consumers prefer the warm white look because it's most similar to the old incandescent, others may prefer the cool white bulbs. If you are unsure which you prefer, try one of each before retrofitting your whole home.
Buy bulbs with the Energy Star logo. They have been subjected to rigorous testing and must meet numerous stringent requirements set by the U.S. Environmental Protection Agency regarding long-term performance, dimmability, light distribution, etc.
For more information on how to buy an LED bulb, go to the guides prepared by NRDC, the California Lighting Technology Center and the EPA.
Noah Horowitz is senior scientist and director of the Center for Energy Efficiency Standards, Energy & Transportation Program at the National Resources Defense Council. This blog was originally posted at the NRDC's Expert Blog.
Weekly Newsletter
Get building science and energy efficiency advice, plus special offers, in your inbox.