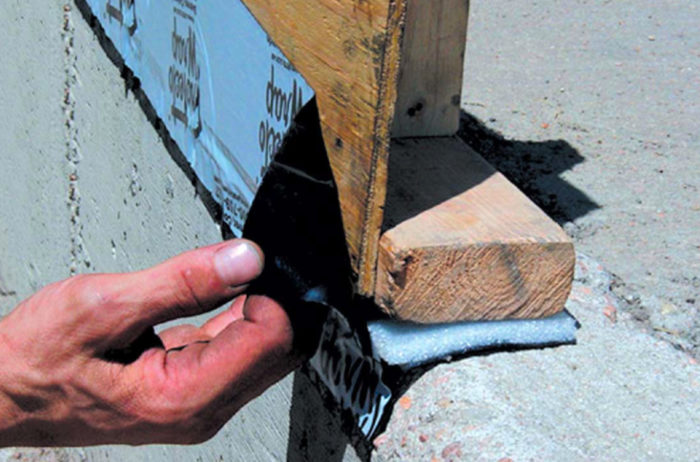 Sill seal made from closed-cell foam does a pretty good job of stopping air leaks on smooth-topped foundations. When the concrete is rough, however, it's hard for sill seals to bridge the uneven gap under the mudsill.
To address the problem, Protecto Wrap, a Denver manufacturer of peel-and-stick flexible flashing products, has developed, in my opinion, the world's best sill seal. Called Triple Guard, the sill seal includes a gasket of closed-cell polyethylene foam, just like many competing products. But to address the problem of air leakage through gaps caused by irregular concrete foundations, Triple Guard has thicker than usual foam — 3/8 in. thick instead of the more typical 1/4 in.
The foam layer is bonded to a layer of 20-mil peel-and-stick rubberized asphalt, so that the gasket adheres to the top of the concrete foundation. The sill seal has a T-shaped cross-section, with a 4 3/4-in.-wide peel-and-stick flange at a 90° angle to the foam gasket.
The bottom half of the vertical flange is designed to adhere to the outside face of the concrete foundation. Once the walls are framed, the top half of the flange is adhered to the wall sheathing.
At that point, virtually all air infiltration has been blocked.
Lab results back up claims
At the Oak Ridge National Laboratory, senior research engineer Jan Kosny tested the airtightness of sills sealed with Triple Guard. When sealed with conventional foam sill seal, the gap between the concrete and the mudsill in a 9-ft., 6-in. wall assembly had an equivalent leakage area (ELA) of 3.6 square in. When the gap was sealed with Triple Guard, the ELA dropped to 0.3 sq. in.—a 91.7% reduction in air leakage.
"This product gives almost 100% protection against air leakage, as well as moisture leakage in two directions—horizontal and vertical," said Kosny. "This is a great product."
Kosny also spoke highly of Triple Guard's tenacity. "After we were done with our testing, we had some questions about some of the results, and we wanted to repeat some of the testing," said Kosny. "We said, 'Let's remove the Protecto Wrap from the concrete and test the other sealant.' But can you believe that three people couldn't take off a ten-foot-long piece of Protecto Wrap in three hours? It's a very tough product."
Triple Guard is sold in 25-ft. rolls in two different sizes. It isn't cheap; the smaller size, intended for use with 2×4 sill plates, costs about $47 per roll. The larger size (for 2×6 sill plates) has a 5 1/2-in.-wide foam strip and costs about $72 per roll.
For more information, visit the manufacturer's Web site or call the manufacturer at (800) 759-9727.
________________________________________________________________________
Martin Holladay is a retired editor who lives in Vermont.
Weekly Newsletter
Get building science and energy efficiency advice, plus special offers, in your inbox.