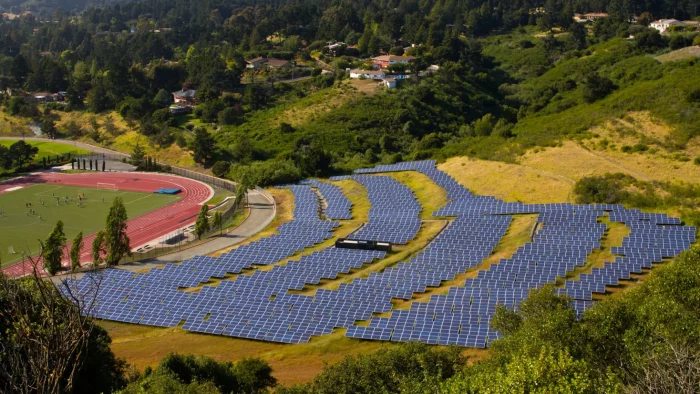 This fading summer will long be recalled for cascading climate disasters hurtling across the country like a runaway train. Fires destroyed Maui's Lahaina and took more than 115 lives. Dangerous heat waves threatened two-thirds of the country. Smoke from Canadian wildfires blotted out the sun in the U.S. capital.
Amid the dispiriting news, there's reason for hope: We're on the cusp of a clean energy transformation that could slash carbon pollution from the nation's dirtiest power plants.
That's important.
Clean energy development plan
Power plants that burn coal and natural gas account for nearly a third of the U.S. carbon footprint—the fossil fuel pollution that's driving the climate crisis. Slashing that pollution is no pipe dream.
Thousands of wind and solar projects are underway or on the boards, and these could cut carbon pollution from power plants 80 percent or so by 2030, boosted by the clean energy and climate incentives in the Inflation Reduction Act.
There's an emerging hitch, though, that must be addressed. Local opposition in parts of the country is slowing or halting wind and solar farms, or the power line extensions and upgrades they require.
The answer—as we point out in this new NRDC report—isn't to try to steamroll communities or dim local voices, as some in Congress would do. The better approach is to enhance community engagement and bring local interests to the table early in the planning process to make sure their voices are heard. That's how to build projects where they belong—and not where they don't. It's the way to identify potential conflicts up front and address them in the project's design. And it can empower local advocates to press clean energy developers to provide greater benefits to the communities that host the projects.
Clean energy build-out
The country is undergoing a sea change in how it produces and consumes electricity, with a sharp pivot away from the dirty fossil fuels of the past and toward cleaner, more sustainable ways to power our future.
In the year since President Biden signed the Inflation Reduction Act into law, companies have announced more than $86 billion worth of clean energy investments, mostly to build or expand factories to make solar panels, wind turbines, electric vehicles, and advanced batteries.
This clean energy build-out is creating at least 74,000 jobs in Ohio, Georgia, Michigan, South Carolina, and 35 other states, red and blue. It's strengthening the supply chain for the building blocks of a modern economy. It's making the country more energy-secure. And it's helping position the United States for dramatic cuts in the dangerous greenhouse gas emissions that are driving the climate crisis.
There's broad public support for this transition: Two-thirds of the country wants wind and solar power prioritized over fossil fuels. And yet, at the local level, nearly 300 clean energy or transmission projects have faced opposition, paired with some 230 local restrictions, which can slow or scuttle such projects. Part of the problem is misinformation, mostly from fossil fuel interests hell-bent on thwarting clean energy progress. Countering scare tactics with facts is another reason for clean energy developers to engage early on with local communities.
Value of a full package
The truth is, clean energy and modern transmission projects drive investment, create jobs, cut costs, reduce pollution, and generate revenue that can improve local schools, roads, and public services. Developers can do even more to drive benefits to host communities by, for example, planning projects to improve wildlife habitat and recreational areas. Local support rises when community gains are substantial and well understood.
It's also important for regional planners to approve projects from developers that have engaged constructively with the community, are providing meaningful benefits, and are sited in locations where they belong—not in no-go zones. Developers that meet high standards then also need a predictable path to approval.
Some clean energy can be produced on repurposed land: a utility-scale battery depot on the site of a former coal-fired power plant in New Jersey, for example, or a solar farm at an abandoned titanium mine in Virginia, or a logistics hub for offshore wind where coal once burned in Massachusetts.
There are, for that matter, nearly 200,000 sites covering about 40 million acres where wind, solar, and other renewable power sources could be built on contaminated lands, abandoned factories, mines, and landfills.
Host-community engagement

Working with communities early on is one way to get this right. Enhanced community engagement also provides an opportunity to daylight concerns early on in the process, so solutions can be baked into the project's design, with priorities and red lines agreed on up front. That's how to build trust, secure public buy-in, and foster a dialogue to resolve issues as they arise, heading off the need for litigation and saving time and money down the road.
Other steps go hand in hand with this approach, to ensure that clean energy projects make sense for the communities that host them. State and federal agencies must have the staff required to perform timely project review. States can make the process more predictable by adopting model laws that require early engagement, ensure that the befits of clean energy are fairly and broadly shared, and provide clear siting standards. And Congress should recognize the manifest national interest in a modern, reliable power grid by clarifying federal authority to review and approve long-distance, interstate power lines.
Clean energy and transmission projects, done right, can bring broad and lasting benefits to the communities that host them. That starts with meaningful local engagement, early on, and the more of that, the better—for everyone involved.
Christy Goldfuss is NRDC chief policy impact officer. This article
originally appeared
on NRDC.org; it has been republished with permission.
Weekly Newsletter
Get building science and energy efficiency advice, plus special offers, in your inbox.