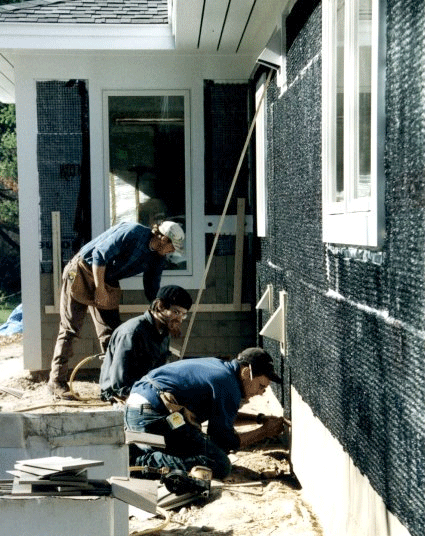 Last week I wrote about "deep-energy retrofits"—strategies for dramatically reducing the energy consumption of an existing house. In northern climates, such retrofits often involve adding a layer of rigid insulation to the exterior of a house. If you're removing the siding to add insulation, this is a great time to provide a drainage layer—or "rainscreen"—before reinstalling siding.
A rainscreen detail provides an air space between the exterior siding or cladding and the wall sheathing (whether rigid insulation, as described above, plywood, or wood).
That air space does two primary things. First, it allows any moisture that gets through the siding or cladding to evaporate and dissipate up and out, or flow down to the bottom of the wall.
Without this air space, moisture can soak through into the wall cavity—where it can potentially cause rotting and mold growth, and (with fiberglass or cellulose insulation in the wall cavities) significantly degrade the R-value of the insulation. In fact, if siding or cladding gets wet and then heats up (such as when the sun comes out after a rain storm), that heat can create a strong driving force for water vapor—pushing that moisture into the wall.
Second, a rainscreen ensures that the back side of the siding or cladding will maintain similar conditions as the front side. This reduces stress on the siding or cladding, which improves the service life of both the material itself and any coating. Painted wood siding, such as clapboards or board-and-batten, installed over a rainscreen can dry out after it gets wet and won't have to be repainted as often. In relatively rainy climates, most houses with wood siding have to be repainted or stained every four or five years to keep it looking good, but if the siding is properly primed and painted (see below) and installed using a rainscreen detail, it can last more than 15 years before repainting or staining is needed.
While rainscreen detailing doesn't affect energy performance to a significant extent, it is particularly important with a highly insulated wall system that may have difficulty drying out if it gets wet. Building science expert Peter Yost suggests that we "manage energy and moisture with equal intensity." Any time we make improvements to a home's energy efficiency, we should look for opportunities to improve durability. Furthermore, less frequent painting or siding replacement indirectly saves energy, because of the energy that's "embodied" in those materials we would be using.
Rainscreen detailing should be a part of standard construction practice. The rainscreen can most easily be made with strapping installed over the sheathing (1x4s, for example)—perpendicular to the siding. With horizontal clapboards, vertical strapping should be installed; for board-and-batten siding, horizontal strapping.
There are also some specially designed materials that provide a rainscreen, such as "Cedar Breather" from the Benjamin Obdyke Company. When providing a rainscreen, the window and door trim has to account for the added thickness.
While a rainscreen detail is important with wood siding, it also makes sense with fiber-cement siding and brick cladding. Brick can absorb a lot of water, which can be driven into the wall when the exterior heats up. Vinyl siding usually does not require a separate rainscreen, because it's made in such a way that air can flow through it relatively easily. Creating a rainscreen takes a little extra work, but it's a no-brainer as far as I'm concerned. In fact, I believe it's so important that it should be required by code.
On the subject of the durability of paint, it's worth noting that if new wood siding is being painted, it should be primed and painted on all four sides (and ends) before it is exposed to sunlight for a significant period of time. The best option is to do all the priming and painting before installing the siding (some siding is sold with factory priming). Once wood is exposed to sunlight, the surface begins breaking down, and it will not hold paint as well.
Weekly Newsletter
Get building science and energy efficiency advice, plus special offers, in your inbox.