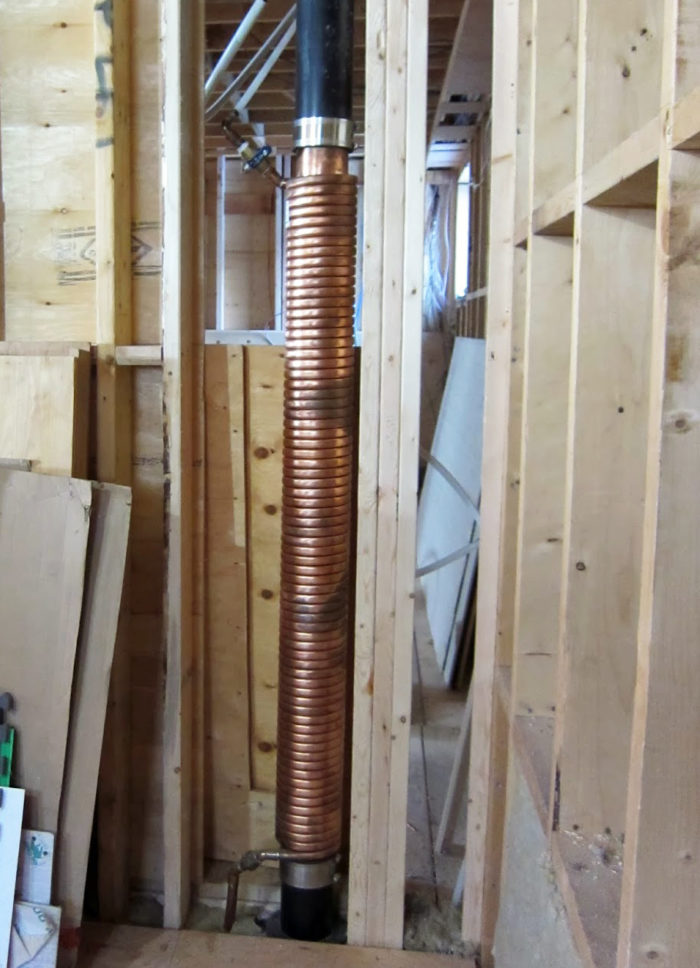 Drainwater heat recovery (DHR) devices have been around for more than twenty years. By now, over 60,000 of the units have been installed in North America. When one of these devices is installed in a typical single-family home, it can reduce the amount of energy used for domestic hot water by 15% to 22%.
Two years ago, changes were made to the rules governing HERS Index calculations to give credit for drainwater heat recovery devices when calculating a HERS rating. For builders who are interested in advertising an impressive HERS Index, this is important news — because installing a drainwater heat recovery device can be a relatively inexpensive way to get a two-point improvement in a HERS number.
Researchers measure energy savings
The first such drainwater heat recovery device to hit the market was called the GFX. In the December 1996 issue of Energy Design Update, editor Ned Nisson wrote, "The GFX is a 'coil-and-tube' counterflow heat exchanger that is installed vertically in the home's plumbing waste line and connected to the cold water main. Warm wastewater from showers and sinks runs down through the central copper pipe while incoming cold supply water runs up through the tightly would coil of copper tubing."
Over the years, a parade of researchers looked into the potential savings attributable to the use of a drainwater heat recovery device:
Weekly Newsletter
Get building science and energy efficiency advice, plus special offers, in your inbox.
This article is only available to GBA Prime Members
Sign up for a free trial and get instant access to this article as well as GBA's complete library of premium articles and construction details.
Start Free Trial
Already a member? Log in