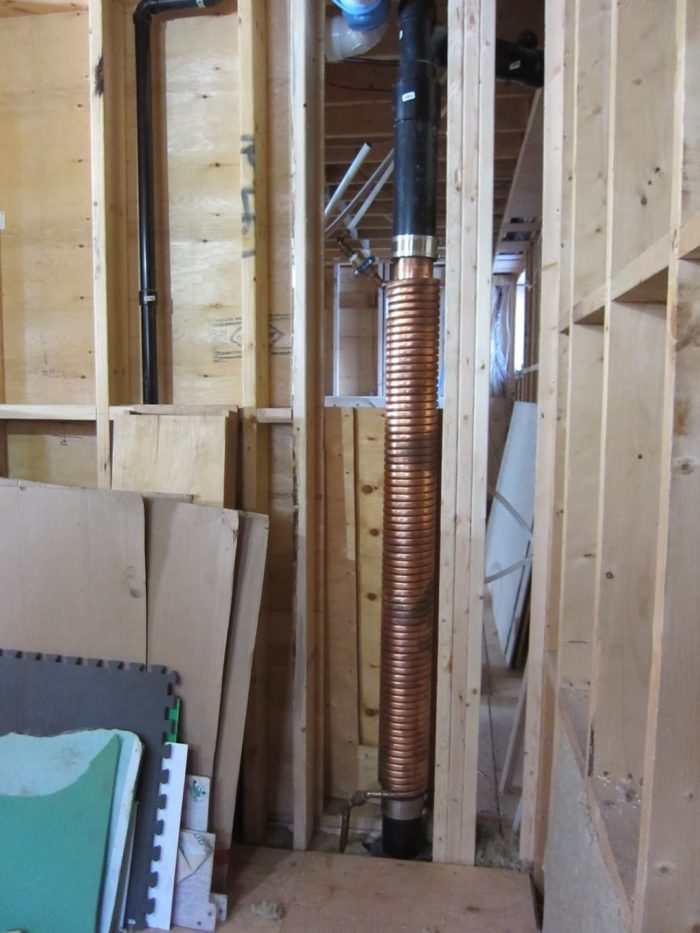 Editor's Note: Lyndon Than is a professional engineer and Certified Passive House Consultant who took a year off from work to design and build a home with his wife Phi in North York, a district of Toronto, Ontario. A list of Lyndon's previous blogs at GBA appears in the sidebar below. For more, you can follow his blog, Passive House Toronto.
Drainwater heat recovery is a simple way of capturing some of the energy in hot water that's headed down the drain — energy that ordinarily is thrown away.
Here are a few points to consider:
The cost is $500 to $1,200. Installation is extra.
Go with the largest diameter and longest exchanger you can fit into your plumbing, assuming a vertical installation. There are horizontal units available from Ecodrainalthough I believe they are available in just one size. Leave at least a 12-inch run of straight drain pipe above the exchanger to smooth out the flow. (You can see we've done this from the photos. We've used 4-inch pipe.)
It is still worthwhile to pump shower drains in the basement back up so they can drain into the heat exchanger. The cost of these Gulper pumps with a kind of control that senses the water level in the drain is something like $300.
Gather all your drains to one place, if possible. In our case, we've done this with all the shower drains in the house, which all happen to be clustered together in the building.
Savings of about 20% or more on water heating energy is possible, depending on how things are plumbed in the house.
Hot water recovery times can be dramatically improved. This, to me, is a very sure sign of energy being saved.
The design requires a double-walled heat exchanger. In other words, there must be a (tiny) air space between the copper pipe carrying the drain water, and the copper pipe carrying the potable water — this severely limits the efficiency of the unit, and increases the costs (more on this later).
Surface tension effects cause the drain water to stick to the drain walls in a thin film. This is why heat exchange is arranged at the surface of the drain pipe.
Simple payback periods range from two years to 10 years.
Why not just leave the water in the tub?
One comment I've read is this: Recover your hot water heat simply by leaving the shower water in the bathtub and letting it cool to room temperature before allowing it to drain away. This is an excellent measure, and no cost to install, but it has some issues. First, it adds moisture to the house — good in winter, probably, not so good in summer. Second, it's only possible with bathtubs because showers can't hold much water. Third, consider the ring around the tub. Fourth, it gets difficult to have multiple showers in a short period of time, such as on busy mornings with a family of four.
And fifth, don't assume it is 100% heat recovery. The water in the tub cools only to room temperature, which is almost the halfway-point from the cold water inlet temperature to the 40°C (104°F) or so needed for a shower or bath. So, heat recovery is something like 60%, similar to a good drainwater heat recovery installation.
Efficiency could be improved with another design
The best units are limited to something like 60% efficiency, measured in terms of inlet and outlet water temperatures. Industrial heat exchangers are good for over 90%, even over 95% in some cases. A much more effective design would be to have a copper drain pipe inside of a larger, plastic pipe filled with pressurized, cold water. This would increase heat exchange efficiencies a lot (to probably above 80%, easily more), and reduce the cost of the units greatly as well. It would also reduce the pressure drop incurred by the units we use today.
Given the huge potential for energy saving across a nation like Canada, one would think it is possibly worth the very small contamination risk. After all, if ever there were a leak, the pressurized water would go into the drain, not the other way around, and it would be fairly easy to detect: just check the water meter while all fixtures are turned off. Perhaps an annual check would be worthwhile.
Imagine if we could recover 95% of the energy used to heat hot water for bathing. Small electric point-of-use hot water heaters would be so much more viable; they could be built right in to shower fixtures, and this could lead to all sorts of interesting plumbing configurations (just plumb one line, for example — no need for both hot and cold?).
An alternate strategy
One way around this is to avoid the issue altogether. Instead of directing reclaimed heat to the domestic hot water system, transfer it to the space heating system instead, i.e. to a non-potable heat sink, such as a hydronic heating component, or directly to refrigerant in a heat-pump system. This avoids the water contamination issue, and can recover much closer to 100% of the energy used for heating water. Sadly, I know of nothing on the market that does this as yet, but it would be very easy to build something. A coaxial pipe heat exchanger is all you would need.
Another approach involves using an auxiliary tank and a pump. We recover heat even from processes like clothes-washing and dish-washing, in which the hot drain water is not expelled at the same time cold water is being drawn in.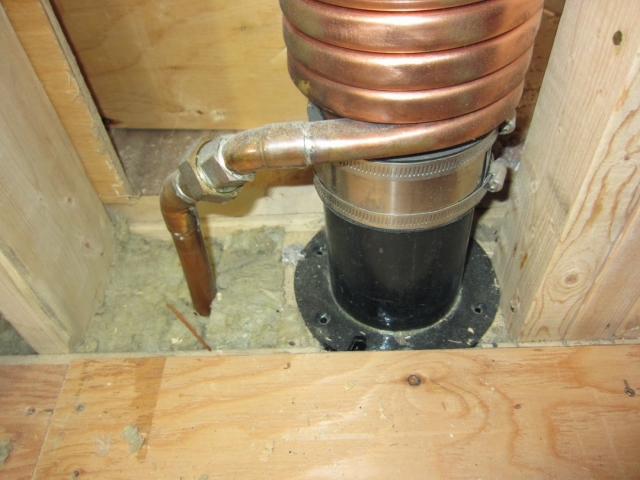 Installation
You can see there is a lot of copper in these things. The one we installed was a good 60 lb. We came up with a simple way to mount the item effectively. We used a 4-inch water closet flange. We removed the small groove inside this flange so the 4-inch ABS pipe could be passed right through. This is basically creating a bulkhead fitting on your pipe, but there is no break in the pipe. Glue it on with solvent, and then mount it to a couple of wood runners, which make good supports. Notice also we've installed unions around the exchanger. This will let us more easily check its insides from time to time and clear out any build-up.
Water pressure losses
Something not mentioned very often: What about the pressure losses? The unit we chose to install uses a single 3/4-inch copper tube (about 60 feet of it) wrapped around the 4-inch drain. In choosing a product, it is a matter of heat exchange performance and this is measured by the Canadian government testing apparatus. After finding units that perform well, we looked for designs that retain the most water pressure.
So, how to plumb in order to retain water pressure? If you have high water pressure, this may not be an issue, but keep in mind, water pressure is not free. Someone, somewhere, must provide it, and I feel we must always think of our buildings as off-grid, so we want to minimize energy losses at every opportunity. Therefore, buy a unit that performs just as well, but results in the least pressure loss. Then, I would plumb everything through it. After all, we heat a lot of water to just room temperature via space heating — it sits there in the toilet, in the pipes, etc. But to recover that heat using the drainwater heat exchanger, the cold side must flow. Therefore, as per manufacturer recommendations, just plumb everything through it. I would still provide a small line to a drinking water fountain or ice maker, however.
Weekly Newsletter
Get building science and energy efficiency advice, plus special offers, in your inbox.