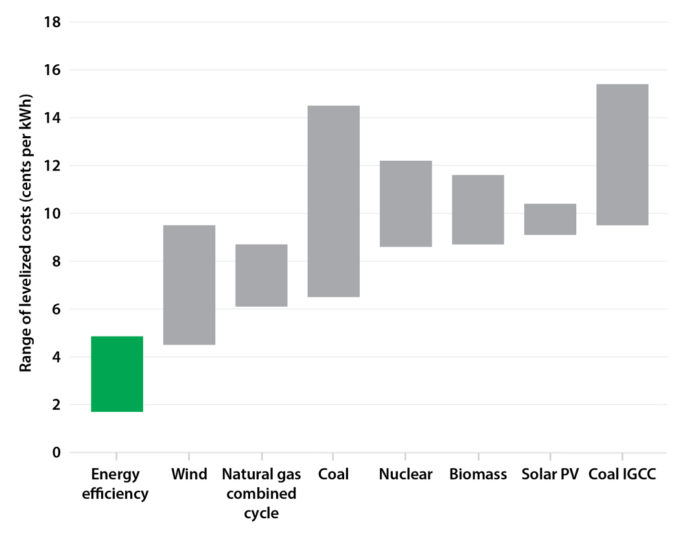 Paying for increased energy efficiency is two or three times less expensive than adding new electrical generating capacity, two recent studies have found.
As reported by Midwest Energy News, the average cost of saving energy was between 2 cents and 2.8 cents per kilowatt hour, two or three times less than adding wind, natural gas, coal, or other generating facilities.
The separate studies were produced by the Lawrence Berkeley National Laboratory and the American Council for an Energy-Efficient Economy. Both studies looked at the levelized cost of saved energy, which is the cost per kilowatt hour when the initial cost of the efficiency measure is spread over the lifetime of the investment, Midwest Energy News said.
The Lawrence Berkeley study pegged the average cost of saving energy at 2 cents/kWh, while the ACEEE study found it to be 2.8 cents/kWh.
But there were regional variations. In states where efficiency programs are relatively new, as they are in parts of the Midwest, low-cost programs such as getting consumers to use high-efficiency light bulbs, kept the cost of efficiency below 2 cents/kWh. By contrast, in California, Connecticut and Massachusetts — where low-cost measures have already been adopted — the cost of new efficiencies exceeded 4 cents/kWh.
"As programs get more aggressive, they are more expensive," Rebecca Stanfield, deputy director for policy at the Natural Resources Defense Council, told Midwestern Energy News. Even so, "they're not more expensive than generation."
The ACEEE study found that spending on efficiency programs rose from $1.6 billion in 2006 to $4.8 billion in 2011, the report said.
Weekly Newsletter
Get building science and energy efficiency advice, plus special offers, in your inbox.