Two years after launching Project Sunroof, Google says its expanded database now covers every state in the country with information on the solar power potential of 60 million buildings.
Users can plug in a street address at the Project Sunroof website and, assuming that neighborhood is covered, get an instant read on the solar potential for the building (the photo at right shows the information the website pulls up for an address in South Portland, Maine). It provides estimates on the hours of sunlight the roof gets annually, as well as the square footage of rooftop that would be suitable for solar panels.
If you want to take the process a step further, the website provides a way of contacting a solar installer.
Google launched the program as a pilot in 2015, but it initially had information for only a few major metro areas — San Francisco and Fresno in California, and Boston, Massachusetts. There are still lots of holes in rural regions, but Google has steadily broadened its coverage since then in the most populated parts of the country.
The program uses imagery from Google Maps and Google Earth, and 3D modeling to calculate how much sunlight would strike each part of the roof over the course of a year and uses "industry standard models" to predict the output of solar panels.
Google says its analysis finds 79% of all rooftops it studied are "technically viable" for solar panels — that is, they have enough unshaded area for panels — with number ranging from 60% of surveyed rooftops in Maine, Minnesota and Pennsylvania to a high of 90% in Hawaii, Arizona, Nevada, and New Mexico.
Community-wide output estimates also available
With what Google calls a data explorer tool, you also can check the rooftop solar potential of an entire community (at lease those in its database). The software will provide the total square footage of roof space, the total generation capacity, and the total production of electricity in an average year.
Houston has the most solar potential of any city in the country, Google says (see Image #2 below), with rooftops capable of producing 18,940 gig-watt (GW) hours a year. Each GW is enough to supply electricity to 90 homes, based on average use calculated by the U.S. Energy Information Administration. If the 10 cities with the most solar potential reached their full potential for solar panel deployment, there would be enough electricity for 8 million homes, Google said.
Getting referrals to an installer
After getting a solar potential estimate, a homeowner has the option of clicking a "See Solar Providers" tab. Doing so provides a link to a company called Pick My Solar, a Google partner, which can link a homeowner with an installer in their area.
GTM said in an online article that leads can be forwarded to such companies as Vivint Solar, SolarCity and Sunrun. But Joel Conkling, Google's product manager, told GTM the company is not currently making any money from installers in return for providing sales leads. "At this point," the article said, "[Google] has no plans to make Project Sunroof more commercially oriented."
(GBA sought more information about the financial relationship between Google and installers, but the company has yet to respond.)
A homeowner also could use another online calculator — PVWatts, developed by the National Renewable Energy Laboratory — to get some basics about the solar potential of a particular site. PVWatts allows a researcher to plug in more variables about a proposed solar system, although it doesn't have access to a library of satellite images for information such as roof orientation and shading from trees and buildings. Instead, it relies on nearby weather stations to make predictions.
Free calculators have their limits
Both calculators have their drawbacks and may best be viewed as a rough starting point, not a destination for polished data.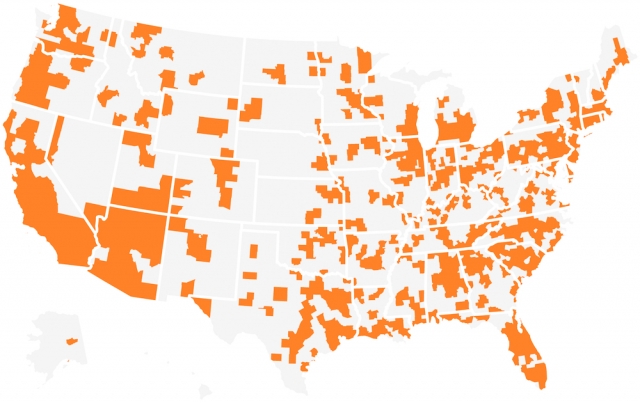 Fortunat Mueller, cofounder of ReVision Energy, a Maine-based solar company, called the Google project "an interesting and cool idea," although most addresses he had tried to pull up weren't in the database.
"So, in spite of their headline about reaching all 50 states, I think it is not yet ready for use here in much of northern New England," he said. "As such, I haven't dug in to see if the estimates are reasonable or not.
"I think Google imagines people might check their own availability and if they find they have a good roof they would contact a solar contractor through their website," he continued. "I think that's probably the most likely use."
Neither Google's calculator nor PVWatts is nearly as sophisticated as tools professional installers are likely to use, such as HelioScope and EagleView, Mueller said. They provide higher resolution rooftop images, enough so that a designer could count plumbing stacks and take measurements down to the inch rather than the half-foot.
But they're not free. And Google's calculator should at least provide a fair idea of how many panels a solar array might include.
"It's often a threshold question for people," Mueller said. "It's useful. If you're shopping for your first solar system and you're kicking tires for the first time to get a sense of do I get a 2 kW system or a 10 kW system, and what fraction of my building does that cover…We have that conversation with a lot of customers. I think Google thinks some customers will want to go through that research by themselves, and I bet they will."