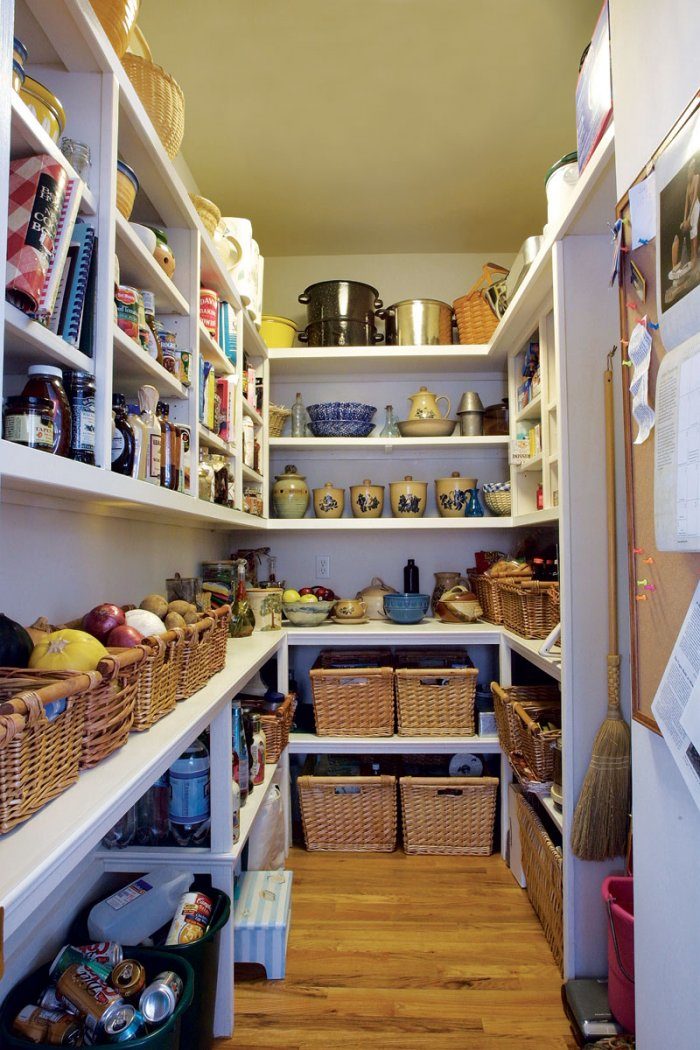 Kitchens of the past were often dark, cramped places where a solitary cook would toil. Now that it has evolved into the social hub of the house, people usually want the kitchen to be open to living areas. They also want windows to bring in natural light and ventilation. Meanwhile multiple cooks, helpers, and visitors need their own places in the kitchen, and a multitude of small appliances are considered essential, straining the traditional work triangle. The result is that the kitchen can easily become cluttered and inefficient. A walk-in pantry improves the function of the kitchen while saving material, money, and time; it even makes it easier to eat healthful food.
An example of why green design doesn't have to cost more than conventional design, a walk-in pantry replaces expensive individual cabinets. Consolidating food and bulky item storage away from work stations makes for a kitchen that is more efficient and open. Many items commonly kept in cabinets can be moved to a walk-in pantry, allowing for more windows and open space in the kitchen, and precious counter space is saved if small appliances are kept in the pantry. The ability to walk into a room of open shelves and instantly assess inventory saves time.
Having a convenient location to store food bought in bulk saves on packaging and also saves gas-guzzling and time-wasting trips to the grocery store. In fact, after converting to a "cook-from-the-pantry" mentality, my wife and I now spend only ten minutes a week at the grocery store and another hour or two a month with our food buying club. Our pantry is not generously sized, but we need a place to store 25-pound buckets of whole-grain flour, recycling bins, and many jars of whole grains and dry beans.
Simply having a pantry does not guarantee healthier eating, of course; you could fill it with junk food, after all. But as an example of how design can influence greener behavior, having a pantry makes it easier to eat in a way that's healthful for both people and the planet.
What makes a good walk-in pantry? It should be very close to the kitchen, part of it really, to be effective. Simple open shelving over a bank of pullout trays in a dark corner adjacent to the kitchen allows the kitchen space to take advantage of a sunnier location. Closing a single door leaves the clutter out of sight. A 2-foot-by-3-foot pantry is the smallest practical size; wrapping shelves around three walls with the center open maximizes storage for the least cost. A 5-foot-by-5-foot pantry is much more comfortable and allows for shallower counters with deeper shelves below. A 6-foot-by-8-foot space is big enough to house a chest freezer and a lot of storage.
Natural light is always welcome, but direct sunlight is not good for most foods. A small, north-facing window is ideal. Some air circulation is beneficial, especially if onions and potatoes will be stored together. Many vegetables, such as onions, garlic, potatoes, and squash, store well at just below room temperature, perfect for an unheated pantry.
A pantry is a good place to keep a microwave oven, an appliance that is always awkward to accommodate in kitchen design. The refrigerator should be near the pantry, creating the "food storage" zone, and typically food that goes into the microwave comes straight from the fridge. The pantry is also a good place for recycling — adjacent to the work zones but not taking up prime real estate.
You don't have room for a walk-in pantry, or you just don't think you need that much space? Consider a tall but shallow cabinet, no more than 18 inches deep — 12 or 15 inches is even better. It won't seem as massive as a 24-inch-deep unit, and items won't get lost at the back of the cabinet. I find flip/fold-type units too complicated and expensive to be practical, but vertical pullouts can work well; think of it as taking a wall full of 8- to 12-inch-deep shelves and sliding them sideways into a cabinet. Even a single pullout shelf can make the most of an underutilized corner.
Weekly Newsletter
Get building science and energy efficiency advice, plus special offers, in your inbox.