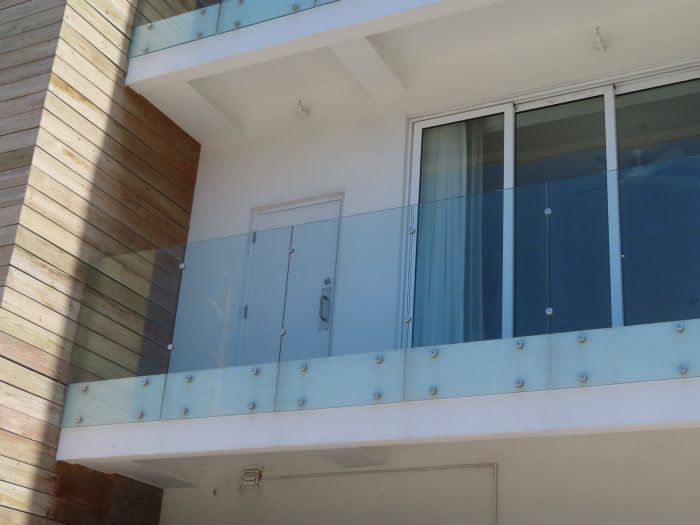 If a deck, balcony, or stairway is more than 30 inches above grade, most building codes require that a guard be installed. (The term "guard" refers to the structure that prevents people from falling off the edge of a building part. A "rail," on the other hand, is either the top of a guard or a graspable item—usually called a handrail—that people can hold or grab to steady themselves. Balusters are vertical sticks that are components of some, but not all, guards.) Such a guard needs to be at least 36 inches high.
Guards come in all flavors, including simple pressure-treated guards made from 4x4s, 2x4s, and 2x2s; stainless-steel systems that include see-through horizontal cables; and all-glass guards.
To my eye, glass guards often look insubstantial. I decided to research guard requirements, in order to answer the question: is a glass guard strong enough and durable enough to meet code requirements?
A nearly invisible guard
The photo at the top of the page shows the balcony guard that inspired this article. The guard consists of a series of glass panels, each about 4 feet high by 3 feet wide. Each panel is attached at its base by four bolts. In essence, each glass panel is cantilevered vertically from these four bolts. At each vertical seam between adjacent glass panels there are two small stainless-steel clips to keep each panel aligned with its neighbors.
This type of glass guard does not include any type of steel rail at the top.
If someone pushes against the top of this type of guard until failure—something that I fervently hope is hard to achieve—failure will occur in one of two ways: the glass will break, or the bolts will fail.
Holding the glass with just four bolts
I shared this photo…
Weekly Newsletter
Get building science and energy efficiency advice, plus special offers, in your inbox.
This article is only available to GBA Prime Members
Sign up for a free trial and get instant access to this article as well as GBA's complete library of premium articles and construction details.
Start Free Trial
Already a member? Log in