The exhaust from a conventional clothes dryer is full of moisture and lint, and the best place to vent it is directly outside. Matt Culik knows this, but his particular situation makes him wonder whether there are circumstances when this rule might be broken.
Culik will soon be moving into a new house, and the intended laundry room does not have a vent connection for a clothes dryer. Coincidentally, he is planning to replace an old electric hot water heater with a heat-pump water heater, and this has given him an idea.
"Rather than drill a hole in the side of the house for the vent," he asks in a Q&A post at Green Building Advisor, "would it make sense to vent the hot, humid dryer exhaust into the basement? (Obviously, I would need to address the lint issue, but stay with me…) My thought is that this would provide 'better' air for the heat pump, and the heat pump would cool and dehumidify the basement.
"I know going in that this is probably a terrible idea," he continues, "but figured I'd ask just in case. … I'm guessing the air is way too wet to be properly dehumidified by the heat pump, and I'm asking for mold and general dampness problems."
Culik's question is the focus for this Q&A Spotlight.
Lint is potentially a big problem
There are at least two reasons not to try this, says GBA senior editor Martin Holladay.
"The lint problem is insoluble," he says. "And damp lint sticks to everything (with the potential of gumming up the heat pump water heater compressor)."
Second, there's no guarantee the water heater and the clothes dryer would be operating at the same time.
Even if Culik were to install a filter, Holladay says, small particles of lint are likely to escape. If the dryer is vented to the outside, that doesn't make much difference. When the exhaust is indoors, however, those small lint particles can cause problems.
Lint particles can be quite small, adds Steve Knapp. "I couldn't find a document that directly addressed this issue, but a couple of sources suggested that cotton dust particles can be from 3 to 100 microns in size (that is, very small)," Knapp writes. "One article noted that dryer filters are designed to catch large particles since most machines vent to the outside."
One company, Fridge Filters, recommends a minimum of a MERV 8 filter for lint, Knapp says, adding, "I guess my concern is that indoor air quality is already an issue in most homes, and introducing more pollutants is probably going to further degrade conditions."
(MERV stands for Minimum Efficiency Report Value. A MERV 8 filter is capable of trapping particles as small as 3 microns, according to Fridge.) The higher the MERV, the better the filter performs.
But as Holladay points, out, there's a downside to ever-increasing filter efficiency. "One more factor to consider: the better the filter, the higher the static pressure," he says. "If you install a high-performance filter, the clothes dryer fan may be so restricted by the filter that the air flow in cfm drops considerably, lengthening drying times and potentially violating the terms of the dryer warranty."
Try a heat-pump clothes dryer
Instead, Holladay suggests, consider either a heat-pump clothes dryer or a condensing dryer, neither of which have to be vented to the outside.
Several other GBA readers agree that a heat-pump clothes dryer is the best solution. Both Whirlpool and LG make them, says Charlie Sullivan, although the LG version is designed to be vented.
"The Whirlpool will put some heat into the room it's in, though not nearly as much as a conventional dryer would if it were vented directly into the room," Sullivan says. "So you can feel good about that heat being later used by the water heater. The Whirlpool doesn't put any humidity into the room. Overall, that's good. The water heater might be slightly more efficient in high humidity but the other risks introduced by the high humidity aren't worth it."
Venting a conventional clothes dryer into the basement might work on a temporary basis, he continues, as long as Culik tracks humidity levels and does most of his drying outside.
"As Martin notes, the dryer operation is unlikely to coincide with the water heater operation, so there is no reason to try to duct the dryer output through the heat pump, especially considering the lint problems," he says. "But if you simply direct the heat into the space, the space can store some heat and humidity until the water heater later pulls that back out of the space. There are many products designed to catch the lint for dryers vented indoors.
"I do want to reiterate that venting a dryer indoors is generally a very bad idea, and I would only consider that if you monitor the humidity."
Our expert's opinion
Here's what GBA technical director Peter Yost had to add:
I am going to take this in a slightly different direction: line-drying. I just hate to dry our clothes in the dryer; doing so makes me feel hygrothermally ridiculous and defeated.
In the summer, we line-dry about 90% of the time (with the other 10% being driven by loads that simply cannot be timed to the weather). Line-drying is free and easy, and clothes smell and feel better coming off the line than they do out of a dryer.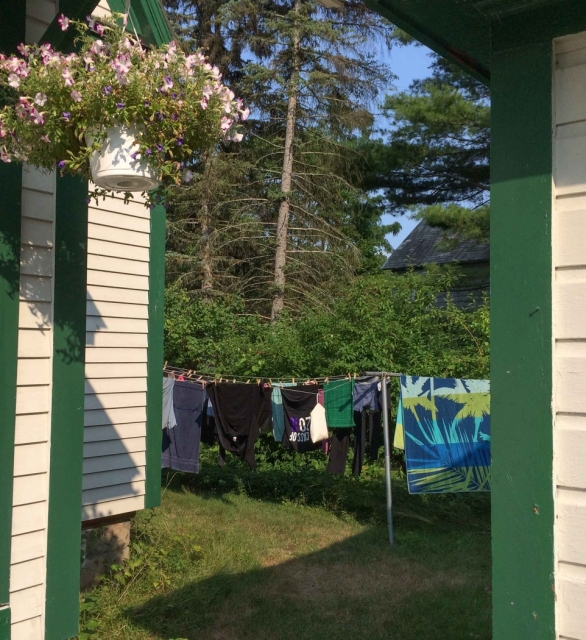 In the winter, I still line-dry outdoors, as long as the lines are accessible. I get adequate drying in the winter, and just air them in the dryer to fluff them. But I still need access to the clothes dryer. When the outdoor lines can be reached, I do line-dry clothes in the basement. What happens? I decided to run the numbers on just how much moisture is added to basement air.
I started by weighing a bunch of our loads of wash just after they came out of the horizontal-axis clothes washer and then when they were dry. The average weight difference was 4 pounds, representing the weight of water in the washed but not dried load.
The chart below shows what would happen to the interior relative humidity under typical winter interior conditions in our basement when you add up to 4 pounds of water to the basement air. These data indicate that when I line-dry a typical load of clothes and dump 4 pounds of water into the basement air, I raise the interior relative humidity from a starting 30% to a resulting 80%. Totally unacceptable.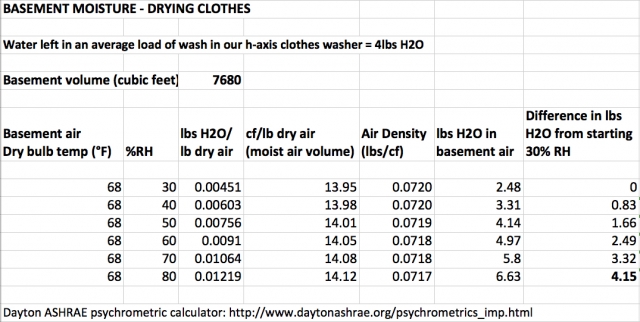 Note the following assumptions: First, that 4 pounds of water enters the basement air volume all at once, without any further dissipation to other spaces with which the basement communicates. And second, there is no air exchange between the basement air space and the outdoors.
But in fact, whenever the basement is closed up, I run a heat recovery ventilator (HRV), which serves only the basement and acts as our radon mitigation system. At 200 cubic feet per minute (cfm), I am changing the entire volume of the basement air every 45 minutes. Bye-bye 4 pounds of water in the clothes (since the HRV is exhausting warm moist air and replacing it with cold, dry outdoor air that it warms in the heat exchanger).
Long story short: In the summer, we dry our clothes for free using the sun, and in the winter we dry them for free because we have to run the HRV anyway. Yes, there is more labor involved, but I just love the thermodynamic payoff.
Does this mean you can vent your clothes dryer to the interior of your home? Use the psychrometric calculator to run your own numbers, but clearly:
(1) Reduce how much water you need to remove from the clothes by taking advantage of high spin speeds associated with a horizontal-axis clothes washer. I have not weighed loads of wet clothes coming out of top-loading washers, but based on drying time differences, I would bet they have anywhere from 50% to 100% more water in them.
(2) You need some sort of air exchange system in the drying space. Dumping 4 pounds to what could be 8 pounds of water into just about any home or space will have a significant affect on interior relative humidity. Some type of air exchange needs to be in the equation.
(3) A heat-pump water heater (HPWH) will not handle the latent load from a clothes dryer vented to the interior. Every heat pump has a Sensible Heat Ratio (SHR), letting you know what portion of its capacity services the sensible and the latent load it sees. I rarely see space-conditioning heat pumps that consistently report SHRs, much less heat-pump water heaters. But any dehumidification from a HPWH is incidental at best. These water heaters are not designed for the moisture load the clothes dryer poses, even if their use cycles were in sync.
In short, it's a terrible idea to dump all that moisture into the basement unless you have a way of moving it outdoors. [Editor's note: Venting a conventional electric-resistance clothes dryer indoors is a code violation. Venting a gas-fired clothes dryer indoors introduces combustion byproducts into your home, which is both a code violation and stupid.]
One final note on the "air density" column in the chart above: Why does the density of air go down as we add more moisture at a given air temperature (and pressure)?
Essentially, the smaller and lighter-weight water (H2O) molecules fill spaces between and/or push apart the larger and heavier nitrogen (N2) and oxygen (O2) molecules in the air, with an overall slight decrease in the total weight of air per given volume. It's counterintuitive that moist air — all other parameters held constant — is less dense than dry air, but this is indeed the case.