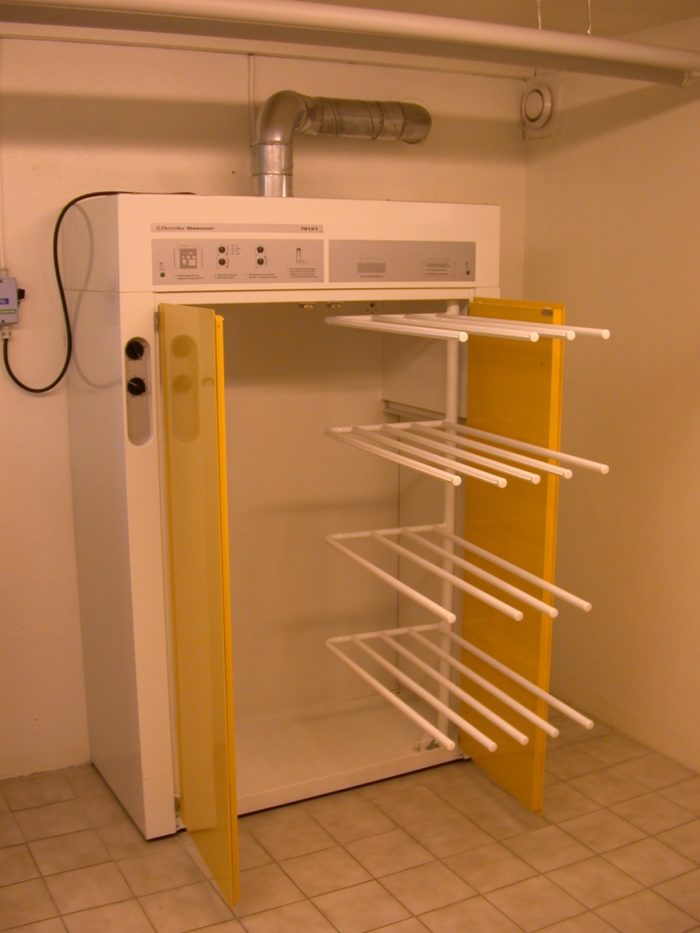 UPDATED on 7/7/2016 with information on heat pump clothes dryers from Whirlpool and LG.
In an American home with a relatively new refrigerator, the clothes dryer usually uses more energy than any other home appliance. An electric clothes dryer draws between 4,000 and 6,000 watts, and costs about 60 cents an hour — about $158 per year, on average — to operate. While a gas dryer may only draw 400 watts of electricity, it also consumes a significant amount of natural gas or propane to dry each load of laundry.
Besides using lots of energy, clothes dryers can also contribute to depressurization and backdrafting problems. The typical American clothes dryer is vented to the exterior; when operating, a dryer depressurizes a house at a rate of 100 to 225 cfm. This depressurization, especially when combined with other exhaust appliances operating simultaneously, can cause gas water heaters or wood stoves to backdraft. Even when the dryer isn't operating, a dryer vent represents a penetration in the thermal envelope that contributes to air leakage.
Finally, clothes dryer vents are a major cause of house fires, so a house without a dryer vent is a safer house. For all of these reasons, you may be thinking of living without a clothes dryer.
Do washing machines have effective spin cycles?
Newer washing machines do a better job of spinning clothes to remove moisture than older models. Still, some people claim that a better spin cycle would reduce drying time. One possible solution is a new appliance called a spin dryer.
Of course, moving clothes from the washer to the spin dryer, and then moving the clothes again from the spin dryer to a clothesline or conventional dryer, is a hassle. Moreover, these spin dryers have mixed reviews; according to some users, they don't really reduce drying time significantly.
Weekly Newsletter
Get building science and energy efficiency advice, plus special offers, in your inbox.
This article is only available to GBA Prime Members
Sign up for a free trial and get instant access to this article as well as GBA's complete library of premium articles and construction details.
Start Free Trial
Already a member? Log in