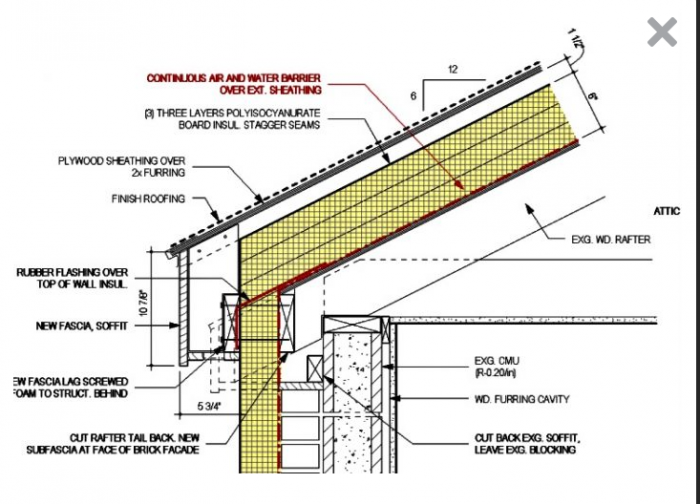 Kaster has retrofitted his Bronx, New York, home to Passive House standards, a project that included the installation of 6 in. of rigid foam insulation on top of his roof deck. The upgrades will certainly mean lower energy bills, but it's also left him with a problem: he can't find a solar installer who will mount panels on the new roof.
"I'm now seeking to install solar panels, but with all my engagements with local PV installers they don't seem to have the ability or confidence to find a way to install/anchor the panels to my roof," Kaster writes in this recent Q&A post. "The PV installers seem to all agree they need to anchor the brackets to the rafters, but how can they find it on one go without making my roof into Swiss cheese is the concern."
Exterior roof deck insulation is frequently recommended at GBA when the aim is to turn an attic into a conditioned space. There are a number of performance advantages. But as rooftop solar installations become more common, does that mean others face the same dilemma as  Kaster? The question has come up before at GBA, including this post from 2019 and this one from 2016.
Is there a workable solution? That's the topic for this Q&A Spotlight.
Locating rafters through the foam
Solar panels are typically mounted on metal racks, which are in turn anchored to the roof surface. The installers that Kaster has spoken with are apparently insisting that fasteners attaching the rack-mounting points to the roof go all the way through the sheathing and into a rafter.
But how to find them?
Mark Nagel suggests a couple of approaches. One is to take exacting measurements from reference points that are accessible from above…
Weekly Newsletter
Get building science and energy efficiency advice, plus special offers, in your inbox.
This article is only available to GBA Prime Members
Sign up for a free trial and get instant access to this article as well as GBA's complete library of premium articles and construction details.
Start Free Trial
Already a member? Log in