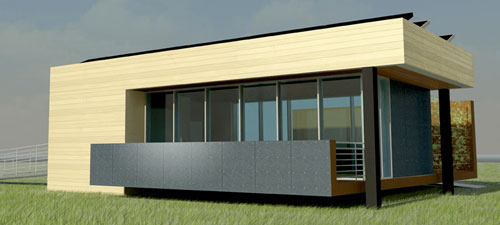 It's a big deal – a prestige gig – to have your proposal for a solar energy home included among the 19 others chosen to compete in the Department of Energy's biennial Solar Decathlon, an educational contest that challenges the best brains in academia to design build, and operate houses that are completely solar-powered.
The next Solar Decathlon is scheduled for October 8-19, when each of the competition's teams – a group of students and faculty representing one or maybe two universities – constructs its house on the National Mall in Washington, D.C. But for the Solar Decathlon house that will be built by Team Boston, a student-run collaboration between Tufts University and Boston Architectural College, Washington might not be the last stop.
The Mayor of Medford, Massachusetts, home to Tufts, told Team Boston this week that he would like its Solar Decathlon entry to eventually be reconstructed on city property.
"I want to create a clean-energy park on the 47 acres next to the McGlynn and Andrews (middle) schools," Mayor Michael McGlynn said at a groundbreaking ceremony last week, according to a story published on Wednesday by the Medford Transcript. "And I would like to give a home to that solar house that you're putting together."
The 800 sq. ft. structure, called Curio, is being built first on the Tufts campus. It will be powered by a 25-panel solar array and include a highly accurate system for tracking energy output and usage, Team Boston says. The DOE has provided a grant of $100,000 toward the team's expenses, although the house alone is expected to cost about $225,000 to construct and the overall cost of the project, including the trip to Washington and back, will likely approach $700,000.
As the BAC website notes, the team is actively fundraising to make up the difference.
Weekly Newsletter
Get building science and energy efficiency advice, plus special offers, in your inbox.