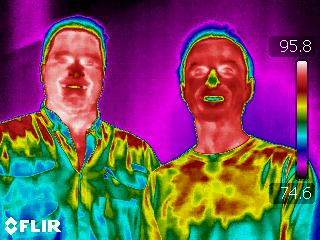 If you think I look silly in the adjacent photo, I am here to warn you that thermographic imagery will make us all look silly if we do not take stock of the power it holds in the hands of homeowners. In the next two to three years, it will change the way we all look—and the way our houses are built—more than ANY other technology to hit our industry since power tools.
The leap from hand tools to power tools was much bigger than the leap from power tools to battery-powered tools—the former being a technological driver of efficiency; the latter, one of convenience. But this new affordable camera technology now gives us Supermanlike X-ray vision to look through walls, floors, and ceilings. And it will undoubtedly reveal some very unpleasant surprises.
The big reveal
At their most basic, these cameras detect subtle changes in heat. This means we can spot water leaking within or into almost any point in the building envelope. We can see every possible type of foundation leak, plumbing leak, roof leak, leaks around windows and doors, or rain-driven moisture that works its way through openings in siding, brick, and stucco. More ominous for those responsible, these cameras also detect missing insulation and leaky ductwork.
High-performance, responsible green builders, however, have nothing to fear. In fact, if you are one of these builders, you are likely already using such a camera yourself as part of your inspection processes—or you at least welcome anybody who would like to come behind your work to see for themselves.
But if your company is in transition and does not understand or appreciate this technology, you could get yourself in a heap of trouble if you are caught with one of the aforementioned problems. Imagine reading a report and viewing the video that shows your insulation contractor missed the cavity between two studs behind a paneled wall with cabinets—or worse yet, a duct connection that was improperly sealed, and then the homeowner presents you with their electricity bills for the past several months, expecting reimbursement.
It's one thing if you have this information before the client moves into their new home, but it is another if the technology ends up in the hands of a toxic, unhappy homeowner. They will be able to pick their home—and you—apart!
The bottom line
We all make mistakes, but it is the true professional that owns up to those mistakes and gets them fixed right away. Don't give anyone the chance to find your mistakes before you do. Get ahead by learning and training in this technology so that you can make all aspects of your homes better. Commandment #7: You can run, but thermography ensures you or your problems cannot hide!
Weekly Newsletter
Get building science and energy efficiency advice, plus special offers, in your inbox.