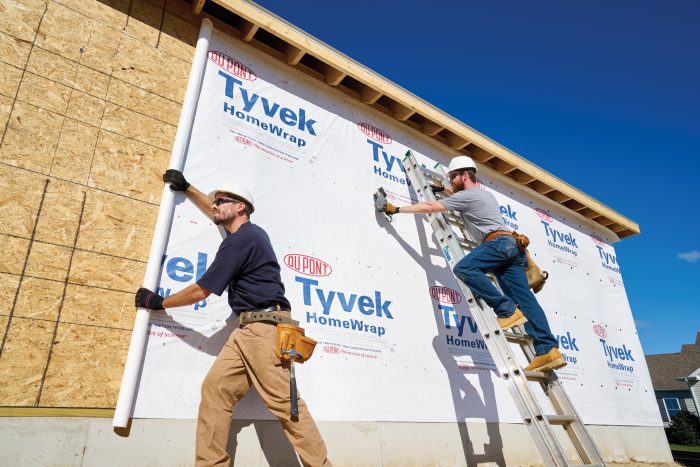 When I first started to look into these products, I was using the acronym WRB to stand for "weather-resistive barrier." It seems that "weather-resistive barrier" and "water-resistive barrier" are often used interchangeably, both by building professionals and manufacturers. However, I learned enough in my interviews with trusted building professionals to change the acronym so that "WRB" stood, more specifically, for "water-resistive barrier."
The thing is, it's important to be very specific about the four different control layers in a building assembly—water, air, vapor, and thermal. Unlike the water-resistive barrier, which may terminate at the top of the wall beneath a roof overhang, for example, an air barrier is a continuous assembly that must connect from one plane of a building to the next. As you'll see, the products often can do more than just keep water out of your walls and you may be able to use a water-resistive barrier as the air barrier on walls, but that is only one dimension of the air-control assembly.
As you choose products for your work, take the advice of the building professional I spoke with and think about the four control layers individually at first. Then, if you can use a product that does double duty, great. Here are nine products that all work first-and-foremost as water-resistive barriers. Some have been around the block, others you may not have encountered yet.
DuPont Tyvek Homewrap (photo above)
For a while it seemed that the brand name "Tyvek" was used synonymously with "housewrap." This is because it was the first synthetic product to hit the American market, long before a WRB was required by the International Residential Code (IRC). Tyvek HomeWrap is nonwoven, nonperforated, high-density polyethylene. It has a perm rating of 56, one of the highest available, and is UV…
Weekly Newsletter
Get building science and energy efficiency advice, plus special offers, in your inbox.
This article is only available to GBA Prime Members
Sign up for a free trial and get instant access to this article as well as GBA's complete library of premium articles and construction details.
Start Free Trial
Already a member? Log in