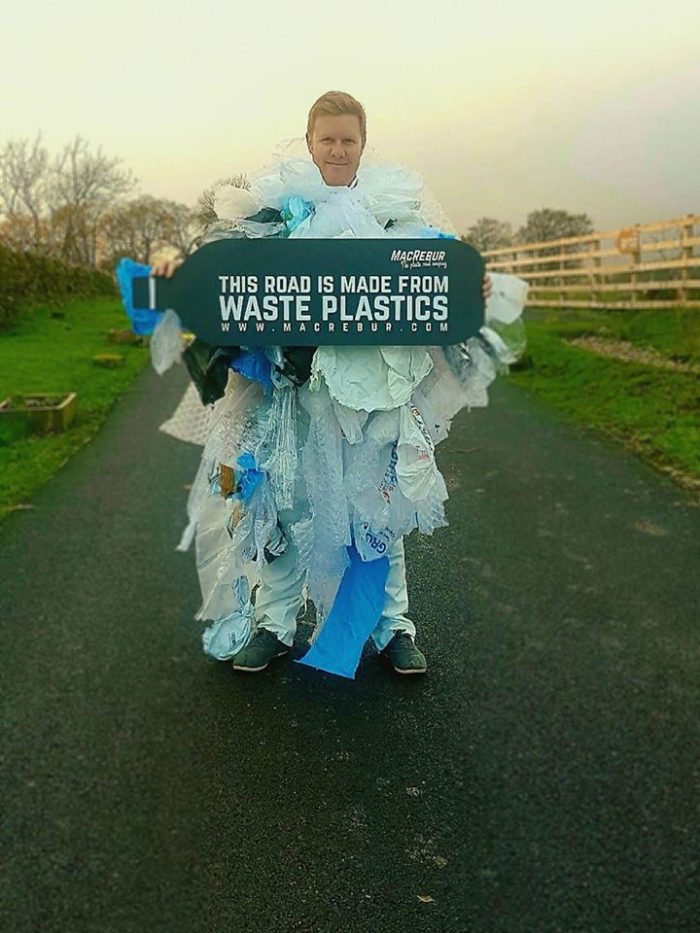 A Scottish startup company has developed a method for supplementing conventional bitumen asphalt with pellets of recycled plastic, producing a stronger and more durable pavement.
MacRebur describes MR6 as a high-performance asphalt binder additive that reduces the amount of bitumen needed to make asphalt, simultaneously reducing the amount of oil going into pavement and finding a use for the millions of pounds of waste plastic that now go into landfills every year.
According to the company, pavement made with the material has higher tensile strength than conventional asphalt, better cohesion and adhesion and much better resistance to rutting and cracking. As a result, roads last longer and cost less to maintain.
The company's Facebook page features a number of photos of paving projects, but it's not clear how much of the asphalt has actually been turned into roads. MacRebur says it's target market are the 275 asphalt plants in the UK and nearly 5,000 across Europe. It already has agreements in place with several smaller UK asphalt producers.
"MR6 can be added into every ton of asphalt produced without any modifications being required by the asphalt manufacturing plants," the company website says. "MR6 allows for less bitumen to be added to their mix, giving the manufacturer instant increased profits from all current and future business."
MacRebur isn't the only company using plastic in road mix. Inhabitat reports that the city of Vancouver is paving its streets with asphalt containing a binder made from recycled plastic. The mix is said to flow at lower temperatures than conventional asphalt and doesn't look any different than ordinary pavement. The process adds 1% to 3% in costs, but could get cheaper as its use becomes more widespread.
And Motortrend reports that a Dutch company is developing a way of producing hollow-core road sections from recycled plastics. The material lasts three times as long as conventional pavement, VolkerWessels says.
Weekly Newsletter
Get building science and energy efficiency advice, plus special offers, in your inbox.