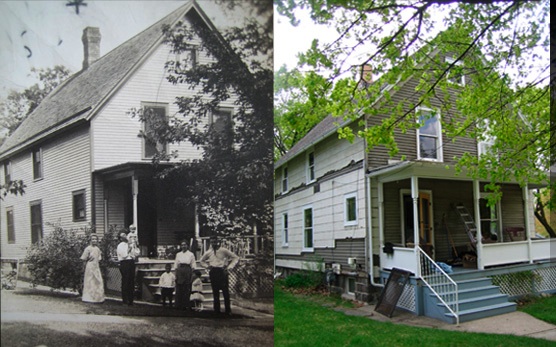 Matt and Kelly Grocoff's house, a Folk Victorian in Ann Arbor, Michigan, fits comfortably in their neighborhood's 19th century architectural vernacular. But the Grocoffs purchased the 110-year-old building, in 2006, for more than its decorative appeal and its place in Ann Arbor's vaunted Old West Side Historic District. One of the real selling points, especially for Matt, was that house was something of a mess.
"It was a dream come true," Grocoff, founder of GreenovationTV and the green renovation expert for Old House Web, says in an OHW video about the house. "It had lead paint, asbestos siding, zero insulation, and even an old gas-powered lawnmower out in the shed!"
Playing off the notion that the greenest house is the one you don't build, Grocoff is using the upgrades to the Victorian to show how deep an energy retrofit can go in a house that not only is very old (by U.S. standards) but subject to relatively strict historic-district rules for renovation. It has turned out to be a long-term project, to say the least, but if Grocoff has his way, the house will soon operate at net zero energy. And because he and his wife (who have a young daughter) plan to stay in the house indefinitely and live in it as it makes its crawl toward better energy efficiency, Grocoff has been justifying many of the improvements by factoring in prospective savings on energy costs and preservation of original materials.
Tending to basics
He told local news service AnnArbor.com, for example, that the monthly utility bill for the home, which was operating with a 50-year-old furnace, was $350 in January 2007, when he installed a geothermal heat pump. (There was room for three 150-foot boreholes on the small lot.) The geothermal system halved the utility bill, which had been about $2,800 annually – a projected $56,000 over the next 20 years, Grocoff notes, if energy prices remained the same.
The attic presented another dream opportunity to save money. It had no insulation (except for a layer of newspaper from 1902), so Grocoff had the air leaks sealed and 20 inches of blown cellulose installed, bringing the thermal resistance of the attic floor to R-50. He also hired a contractor to remove siding panels on each face of the exterior, where cellulose was blown into the walls.
Dealing with the windows in the house required a workaround, since historic-preservation rules in the area prevent homeowners from replacing originals. The Folk Victorian's 15 double-hung windows, before restoration, were almost as leaky closed as open, so Grocoff called in a local window restoration expert, Lorri Sipes, for a tutorial on dismantling and refurbishing the wooden parts, sealing leaks, repairing broken channels, and other steps needed to get the windows in shape. That process cost a few hundred dollars – replacements would have run about $15,000 installed – and a fair amount of labor on Grocoff's part before the windows were ready for paint. The remaining issue, of course, was further reducing air leakage at each window, but the historic district allows installation of storm windows, so Grocoff ordered them from George W. Trapp Co., based in Redford, Michigan.
A pitch for solar and preservation
Grocoff calculates that getting the house to operate at net zero energy – he calls it his "Mission Zero" – will require a solar power system that he plans to buy from SunPower Corp. of San Jose, California, and have installed on the building's south-facing roof. He expects to spend about $14,000 on the purchase and installation after tax credits from the federal government and credits from the local utility company, Detroit Edison Energy. The system will have paid for itself, he figures, in about five years.
That he was able to win the Ann Arbor Historic District Commission's approval for the idea, Grocoff said in his interview with AnnArbor.com, could mean good things for many of the district's other historic buildings, not only in terms of their energy efficiency but also their preservation.
"Historic houses are really inefficient," he said. "They've got old, leaky windows, and so there's a long way to go in those historic houses because they're already so inefficient. So we have to fix those. We're not going to tear them down. It would be foolish and environmentally bad judgment to tear down old houses. So we want to preserve them, and a way to do that is to make them as energy efficient as possible and then produce renewable energy onsite."
Weekly Newsletter
Get building science and energy efficiency advice, plus special offers, in your inbox.