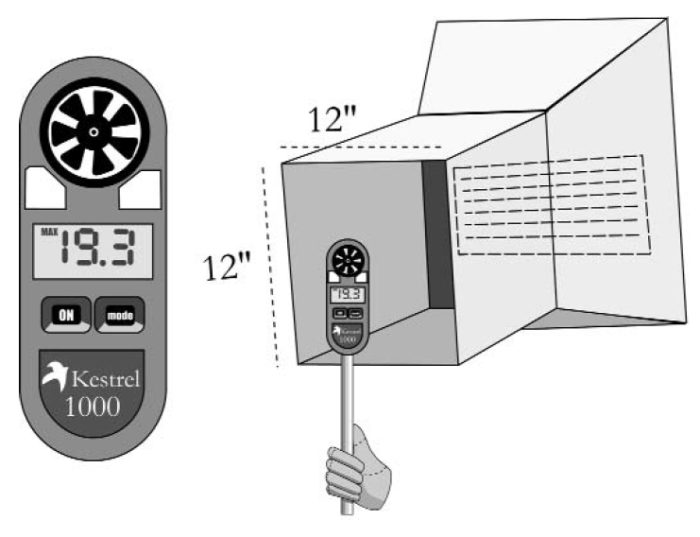 UPDATED on April 15, 2016.
To commission a ventilation system or a forced-air heating system, or to troubleshoot problems with these systems, it's essential to be able to measure the rate of air flow through registers and grilles. Most home performance contractors measure air flow with a flow hood. Flow hoods vary in accuracy, but they all share one attribute: they are expensive (generally $1,600 to $3,200).
If you want to measure air flow, but you can't afford a flow hood, you may be interested in using one of the inexpensive approaches to air flow measurement described in this article.
Are flow hoods accurate?
Iain Walker, Craig Wray, and Max Sherman, three scientists at the Lawrence Berkeley National Laboratory (LBNL), examined the accuracy of commercially available flow hoods in a 2002 paper, "Accuracy of Flow Hoods in Residential Applications." Although most of the flow hoods they looked at provided fairly accurate measurements in commercial buildings with large HVAC grilles, they were often inaccurate when used in homes. "Potential errors are about 20% to 30% of measured flow, due to poor calibrations, sensitivity to grille flow non-uniformities, and flow changes from added flow resistance," the researchers wrote.
When it comes to measuring air flows, the researchers noted that the level of accuracy required to identify room-to-room residential pressure imbalances is +/-25%, and for ensuring room load and comfort requirements it is +/-20%. For such purposes, a flow hood with a potential error of 20% to 30% isn't ideal.
Robert deKieffer, an energy consultant from Boulder, Colorado, has also looked into the problem of flow-hood accuracy. "The Shortridge flow hood I used wasn't anywhere close to accurate," deKieffer told me. "They charged $75 to calibrate it, and I still got a bad number after it came back. I thought, 'Wow — I spent a couple thousand bucks for…
Weekly Newsletter
Get building science and energy efficiency advice, plus special offers, in your inbox.
This article is only available to GBA Prime Members
Sign up for a free trial and get instant access to this article as well as GBA's complete library of premium articles and construction details.
Start Free Trial
Already a member? Log in