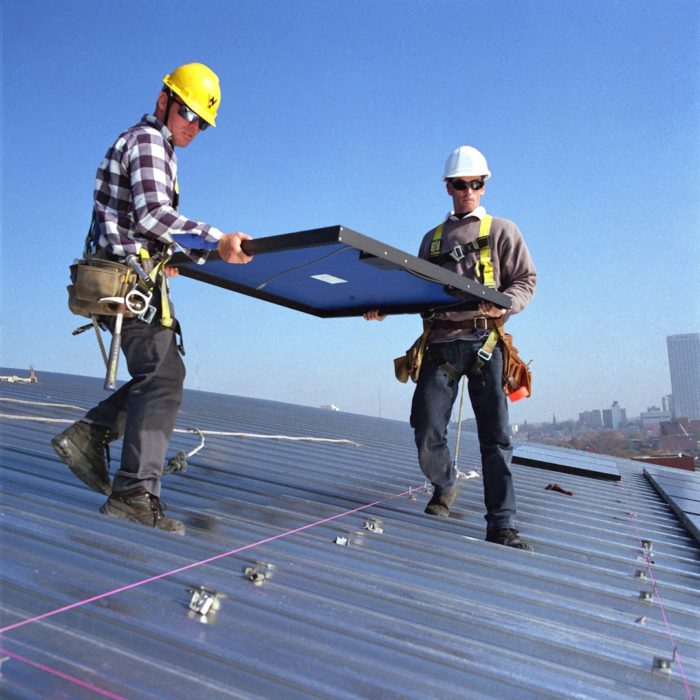 More than 260,000 workers in the U.S. have found employment in the solar industry, with 51,000 jobs added to the workforce in 2016 alone, according to a new report from the non-profit Solar Foundation.
Among the highlights:
Of all the jobs created in the U.S. last year, 2% of them were in the solar industry.
Solar jobs have grown at a 20% or more clip every year for the past four years and have almost tripled since the first census report was completed in 2010.
Solar employment over the next year is expected to increase by about 10%, to a total of 286,000 workers.
California leads all states in solar employment, followed by Massachusetts, Texas, Nevada, and Florida.
The proportion of women in the solar workforce has risen steadily, from 18.7% in 2013 to 28% in 2016.
Companies in the solar industry that listed job openings advertised a median wage of $26 per hour.
The jobs report is the seventh from the foundation and is based on hundreds of thousands of phone calls and thousands of emails to known and potential employers. The positive report comes as utility regulators in a number of states consider limits on net-metering or new fees for solar customers, and as the country waits to see what energy policy emerges from the pro-fossil fuelsTrump administration .
But the report indicates market forces are pushing the industry ahead.
As one solar industry executive told National Public Radio, "Clean energy is not a niche product anymore."
Installed solar shows strong gains
Separately, a report from Greentech Media's research arm and the Solar Energy Industries Association shows the amount of installed solar rose to 14,626 megawatts (MW) in 2016, nearly double the 7,493 megawatts installed the previous year.
For the first time, the report says, solar energy ranked as the top source of new electric generating capacity on an annual basis — 39% of new capacity in 2016.
Utility PV makes up the largest share of the growth. Overall, the amount of installed capacity has grown steadily, beginning with the 851 MW in 2010. The data was released in advance of the the next U.S. Solar Market Insight Report, which is due out on March 9.
Weekly Newsletter
Get building science and energy efficiency advice, plus special offers, in your inbox.