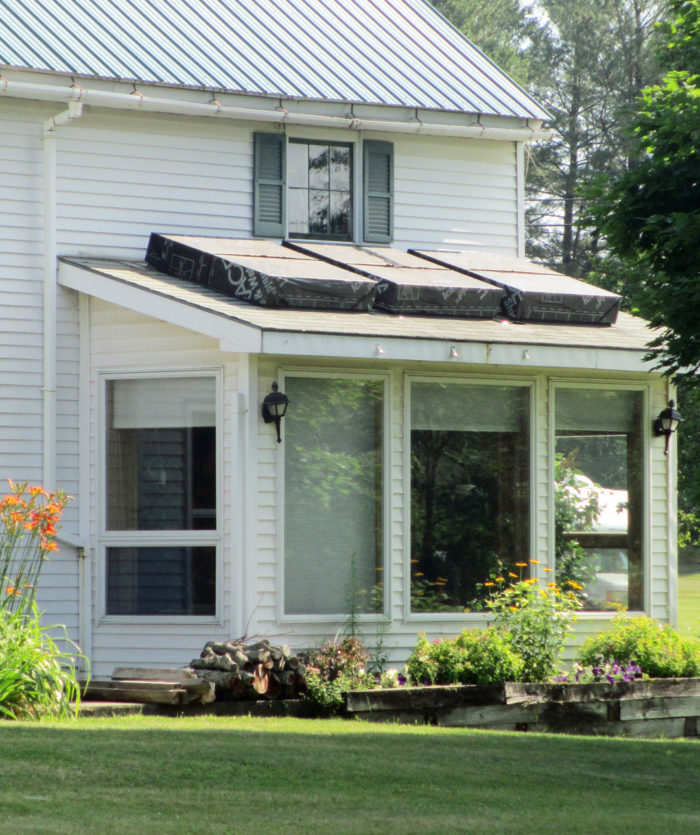 There are two kinds of sunrooms: those that have sloped glazing and those that have only vertical glazing. Sunrooms with sloped (or in some cases, curved) glazing are more common (and, of course, more uncomfortable). In order to make sure that these rooms are sunny, they are often located on the south side of the house.
When homeowners flip through design magazines or visit the websites of sunroom manufacturers, they see photos of happy families enjoying their sunrooms. Once the sunroom has been built, however, reality sets in. In winter, the sunroom is cold. In summer, the sunroom is hot.
One way to address these problems is to build an insulated wall that separates the unpleasant sunroom from the rest of the house. That works, but it's irksome to have to look at a $15,000 room that never gets visited.
Another way to address these problems is to run a huge duct to the sunroom, and blast it with hot air from an 80,000 Btuh furnace during the winter, and cold air from a 4-ton air conditioner during the summer. That works, too — but the energy bills are painful.
An ingenious solution to the problem of south-facing skylights
There are other ways to address this type of buyers' regret, of course. I recently took a photo of a novel solution devised by homeowners in Vermont.
The home in question has a south-facing sunroom with three skylights — skylights that probably cost at least $2,000 to install. After suffering from several years of overheating, the owners simply covered the skylights with Grace Ice & Water Shield. Problem solved.
Martin Holladay's previous blog: "Polyethylene Under Concrete Slabs."
Click here to follow Martin Holladay on Twitter.
Weekly Newsletter
Get building science and energy efficiency advice, plus special offers, in your inbox.
This article is only available to GBA Prime Members
Sign up for a free trial and get instant access to this article as well as GBA's complete library of premium articles and construction details.
Start Free Trial
Already a member? Log in