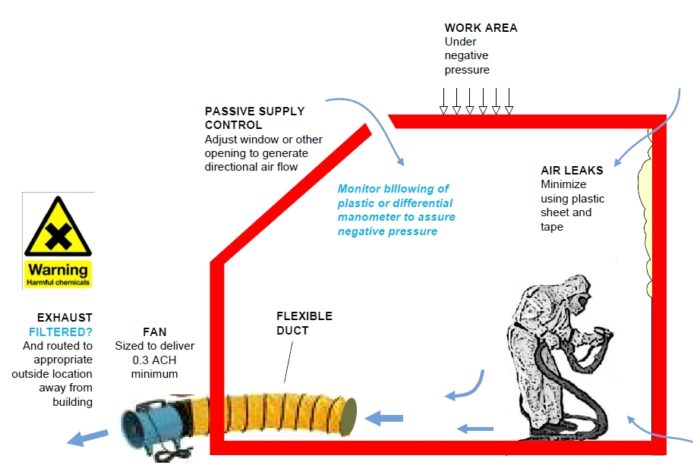 Should spray polyurethane foam be installed in an occupied house? Hundreds of spray foam contractors around the country are happy to answer "Yes!" In almost all cases, these jobs end successfully: the spray foam improves the home's thermal performance and the homeowner is happy.
However, a small number of these jobs go seriously awry. Although each story varies somewhat, reports of bad spray foam jobs have many recurring themes. In most cases, the foam installer made an error: either the foam was installed too thickly or the chemicals were not heated to the correct temperature before they were sprayed. In most cases, the insulation contractor failed to ventilate the job site with a fan during or after the installation. In some cases, areas of foam remained gummy or damp. The biggest common complaint, however, is a bad odor, usually described as a fish-like odor, that lasts for months and is almost impossible to get rid of.
Even do-it-yourself two-component spray-foam kits occasionally produce smelly foam, according to a report by Larry Burks and Jill Burks of Cambridge, N.Y.
Spray foam manufacturers concede that some foam jobs result in smelly foam. I asked Mac Sheldon, Western region manager for Demilec foam, how many spray foam jobs result in odor complaints. "When we looked at the numbers, it appears to be less than one tenth of one percent," he told me. "While that is not acceptable, we're working diligently to try and get a handle on the root cause."
Some manufacturers have responded promptly to odor complaints, and done everything necessary to satisfy the homeowners. Other manufacturers have reportedly brushed off questions from homeowners and referred complaints to the contractor who installed the foam. Finally, some manufacturers have acquired a reputation for doing everything they can to avoid responsibility…
Weekly Newsletter
Get building science and energy efficiency advice, plus special offers, in your inbox.
This article is only available to GBA Prime Members
Sign up for a free trial and get instant access to this article as well as GBA's complete library of premium articles and construction details.
Start Free Trial
Already a member? Log in