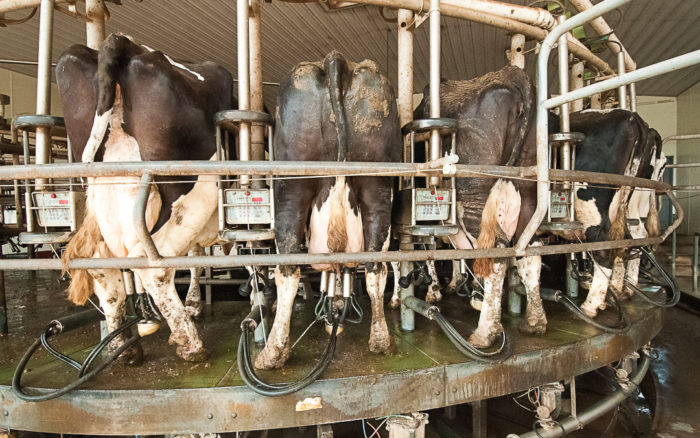 More than half of all U.S. states have adopted renewable energy goals, but many allow dirty sources of power to be counted and efforts overall are currently too weak to prevent "potentially irreversible" climate change, a new report from Food & Water Watch says.
The Washington, D.C., based advocacy group examined the regulatory fine print of renewable portfolio standards (RPS) in 29 states and the District of Columbia and concluded that only a handful merited a C or higher grade. Many others earned Ds, while seven flunked. Twenty-one states have no RPS programs at all. Hawaii and Vermont earned the highest grades, a B- and C+ respectively.
Food & Water Watch used three metrics in assessing RPS programs for its report, Cleanwashing: How States Count Polluting Energy Sources as Renewable:
Whether the programs included a target of 100% renewable energy.
Whether programs allowed six "dirty energy" sources or the use of renewable energy credits.
Whether the states were likely to produce 100% of their electricity from wind, solar, and geothermal sources by 2038, the time frame that will be necessary to "stop the worst and potentially irreversible effects of climate change."
Adoption of renewable portfolio standards has come in fits and starts, and program requirements vary considerably from state to state. Iowa was the first state in the country to adopt a RPS in 1983 when it passed legislation requiring investor-owned utilities to buy 105 megawatts of renewable energy. It wasn't until 1997 that other states began to follow suit, with most coming onboard in the 2000s.
The targeted percentage of electricity coming from renewable sources runs from a low of 0.5% in Iowa to a high of 100% in Hawaii. The mean goal is 25% renewable energy by 2025. Almost all states are currently meeting their renewable energy goals, the report says, which suggests that the targets aren't ambitious enough.
In the end, the report says, not nearly enough is being done. Fossil fuels still provide the bulk of electricity in the U.S., accounting for more than two thirds of all utility-scale power in 2016, with 8% coming from wind, solar, and geothermal sources.
"Only a handful of states were projected to generate or supply the majority of their electricity from wind, solar, and geothermal sources by 2038; less than half would generate even 25% of their electricity from these sources by 2038," the report says. "Almost all states failed to measure up to each of these metrics."
Counting 'dirty' sources of electricity

A major sticking point was the amount of electricity that state programs allow from seven energy sources that add to greenhouse gas emissions and other forms of pollution. The seven sources are: "clean" coal; nuclear; wood; municipal waste incineration; methane from landfills, sewage treatment plants and factory farms; and paper mill residue. In addition, Food & Water Watch cited renewable energy credits, a "flawed policy" that allows utilities to buy renewable energy from outside sources rather than produce it themselves.
The average state program allows four of the seven, with waste methane and wood-burning energy plants the most common. Burning municipal garbage to make electricity is allowed in more than one-third of all state programs, and two states permit poultry litter incineration. The report notes that in 2014, about 66 billion pounds of garbage was burned nationally to produce electricity, even though the New York Department of Environmental Conservation found that incinerators produce almost 14 times the mercury per megawatt as do coal-fired plants.
Maryland and North Carolina allow poultry litter to be burned for electricity, although these incinerators can emit more carbon dioxide, particulates, and other pollutants per megawatt than new coal plants.
Waste methane was another target. The report says that every RPS it looked at allowed methane from landfills and sewage plants to be counted toward renewable energy targets, with 25 states allowing methane from animal waste.
"This group of gases — from animal waste, manure digesters, landfills, and municipal landfills — is often referred to as biogas," the report says. "Biogas is primarily methane and is essentially indistinguishable from fracked natural gas, with many of the same problems. Burning biogas releases greenhouse gases such as CO2 and harmful pollutants like NOx."
Likewise, wood-burning energy plants are routinely accepted as renewable energy sources, although processing, transporting, and burning this fuel results in greenhouse gas emissions that can be greater than coal-fired power plants. The practice also results in unhealthy forestry practices, according to the analysis.
Too little wind, solar, and geothermal
The analysis argues that states are not adopting wind, solar, and geothermal quickly enough, and none is on track to produce 100% of its electricity from these clean sources by 2038.
For example, Connecticut's RPS target year is 2030, when it should be getting 48% of its energy from renewable sources. But only 1% of that is expected to come from wind, solar, and geothermal sources, and only 2% of its electricity is projected to come from those sources by 2038. Those stats earned the state an F in this category.
Less than one-third of all RPS programs can be expected to meet their goals with wind, solar, and geothermal alone, the report says.
The group made a number of recommendations, including a pitch to the 21 states without RPS programs to adopt one. The report also urges RPS plans to aim for 100% renewable energy "within a short time horizon," and suggests that states with renewable portfolios eliminate dirty sources of electricity.
"All state RPS programs need to be strengthened to raise the target goal, expel dirty energy sources, and eliminate renewable energy credits to ensure that the policies can promote a swift transition to genuine renewable energy," Food & Water Watch said.
Weekly Newsletter
Get building science and energy efficiency advice, plus special offers, in your inbox.